Surrounded by stories of gloom, doom and disappointment, we do not often get to hear news worth celebrating and sharing. Here, however, is one truly worth story of being happy and proud about!
Even as more than 300 million people wait for electricity in India, Dharnai in Bihar unshackled from darkness and declared itself as an energy-independent village on 20 July. With the launch of Greenpeace's solar-powered 100 kilowatt micro-grid, quality electricity is being provided to more than 2,400 people living in this village in Jehanabad district.
The people of Dharnai village used to have a facility supplied by the state Government, which provided electricity, but this hasn't been available for the last 33 years and diesel generators were the only source of electricity.
"While India was growing leaps and bounds, we were stuck here for the last 30 years, trying everything in the book to get electricity. We were forced to struggle with kerosene lamps and expensive diesel generators," said Kamal Kishore, a resident of Dharnai.
"The Greenpeace Organisation came here in 2014. Within two months, streetlights were installed. Since then, it does not feel like we are living in darkness. And children are studying well. Villagers have many benefits from this venture," Ashok Kumar Singh, another resident says.
Built within three months and on a test-run since March, the quick-to-install micro-grid launched by Greenpeace India with the help of NGOs BASIX and CEED takes care of 60 street lights, energy requirements of two schools, one health centre, one Kisan Training Centre (Farmer Training Centre) and 50 commercial establishments.
It required a heterogeneous village for this project where agriculture was the main occupation along with basic social infrastructure like a school, healthcare facility, an anganwadi (communal childcare centre), a commercial zone and around 400 households, according to Greenpeace.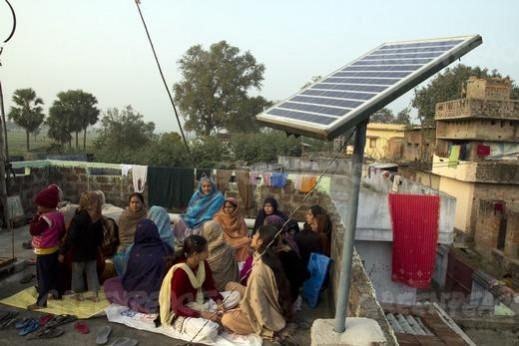 "The village happens to be on a NH, it has a railway halt. It has pretty much all the social infrastructure that should be available in a village. And, the only thing that sort of was missing was energy," says Manish Ram, senior campaigner/analyst, Renewable Energy Greenpeace India.
The project did not just provide electricity for the village, but also the mandate to a better life and ambition. Youngsters like Santan Kumar, 19, had little opportunity in Dharnai, nor did they have the resources to go out of the village and carve a future. In September 2012, though, opportunity knocked.
"I heard that an organization called Greenpeace had come to our village and they were going to bring us electricity," Santan said. "They were going door-to-door with forms. I thought it was a good idea to get involved."
Now Santan is an electrician and is responsible for the wiring of households that apply for an electrical connection from the recently installed solar microgrid in his village.
From womb to tomb, women of villages like Dharnai struggle every day to fulfill the basic necessities of food, water and fuel for their families. With the commencement of solar power, they are saved from the long walks enduring natural hardships, abuse, and fear of rape and death.
After 30 years without power, this village celebrates solar while the economy gets a boost: http://t.co/UEbIhy7NZ8 pic.twitter.com/NYSFVJpo3y

— Greenpeace Africa (@Greenpeaceafric) July 22, 2014
"The coal-fired and nuclear-fired power plants of the country will not be able to reach the Dharnais of the country. Nor will they be able to address global climate concerns and India's commitments towards those concerns. India needs to seriously reconsider its energy strategy and prioritise renewable energy for social and climate justice," said Samit Aich, Executive Director, Greenpeace India, at the launch of the micro-grid attended by more than 3,000 villagers and community leaders from 25 villages.
Here is a video documenting the development of Dharnai: