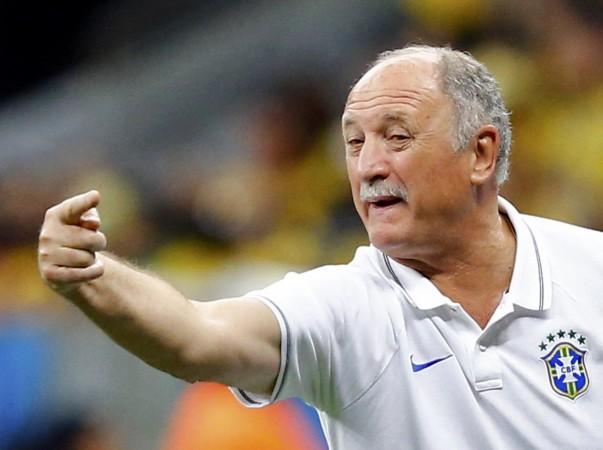 Luis Felipe Scolari has reportedly tendered his resignation as Brazil's national football manager.
The 65-year-old submitted a resignation letter to the Brazilian football authorities, Confederação Brasileira de Desportos (CBF), after the team's humiliating losses against Germany and Netherlands in the semifinals and the third-fourth playoff respectively, according to BBC Sport.
Scolari's contract as manager would run out after the tournament. He however had said earlier he would not quit and the Brazlian soccer authorities would take a decision about his future. This period according to him wasn't the time to deliberate about his future.
"I'll put together my report and tell the president what I think went wrong and he will decide what he wants for the future. We have lost another match but life goes on, "he had said.
Scorlari reportedly has informed the CBF about his desire to forego his duties as Brazilian football manager. An announcement concerning his reported resignation will be made official by CBF on Monday, a goal.com report said.
Scolari who faced severe criticism after Brazil's abject displays against the Germans and the Dutch was booed regularly by specatators during the third-place playoff on Saturday.
"We should thank him and thank [technical director Carlos Alberto] Parriera too. But we need to choose new people with new thoughts about how to play the Brazilian way," former Brazil great Zico was quoted as saying by Sky Sports.
Zico believes, Ramalho, the Sao Paulo manager, would be a suitable replacement for Scolari. "He is one the greatest champions of the Brazilian league, which is one of the hardest in the world to win," added Zico.
Brazil were one of the favourites to win the World Cup and they began their tournament with a 3-1 triumph over Croatia. They also beat Chile on penalties and a good Colombia outfit in the quarterfinals. However after that they suffered a shocking 7-1 loss at the hands of the Germans, before losing to Holland 3-0.
Scolari had won the World Cup previously with Brazil in 2002. This was his second stint as coach with the national team. In his second stint Brazil won 19 out 29 games, while taking them to the Confederations Cup title last year.