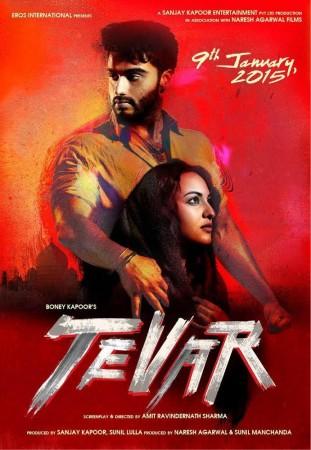 Since the announcement of the movie "Tevar", the makers and marketing staff have managed to keep the buzz about this Arjun Kapoor and Sonakshi Sinha starrer running.
Taking the promotion tactics to a whole new level, they have finally released a teaser of the movie's trailer, after promising the audiences to release the official trailer later on Monday, 10 November 2014.
The official Twitter handle of "Tevar" has been connecting with fans by asking them to express their excitement for the trailer and playing interactive, fun quizzes and games.
"You guys have a chance to grab a Tevarrific iPAD just before we launch #Tevar trailer! RT now if you are in," read a post from earlier on Monday.
This was followed by a series of questions that required fans to answer in a witty and creative manner. The questions included, what how one would welcome their date to give it a "Tevarrific" start? How you would show "Tevar" to your friends who have invited you for a hangout? And how you would give a "Tevarrific" excuse/ dialogue for being late to a meeting?
The posters also keep adapting to the various stages of the film promotion, with one that reads, "trailer dekh" ahead of the trailer release.
Brand New Poster Of #Tevar (2015) | Ft. @arjunk26 ,@sonakshisinha @TevarTheFilm @TevarMovie http://t.co/KJ42JFhCUX pic.twitter.com/Z9r1dshhg0

— Jackace (@Jackacedotin) November 10, 2014
"Tevar ka trailer aaj aa raha hai! Use #Tevar and tell us how excited you are to watch the trailer of the movie," read one of the tweets from Monday, while another one promised fans that if it gets retweeted 100 times a surprise would come their way.
"Here's the surprise! We give you a sneak-peek to the trailer. Watch it here: http://bit.ly/TevarTeaser Give us your reaction with #Tevar?" TewarMovie tweeted at 4.00 pm on Monday.
The fans are beyond excited with the trailer and have responded with, "EK DUM JHAKKKKAAAAASSS :)", "wow awesome #Tevar", and "Iss Ko Bolte Hain Asli #Tevar Mind Blowing ,Super Duper Zordaar Mazedar Trailer".
Aishwarya Ay asks, "Teaser hi itna kamaal ka hai toh trailer kaisa hoga!!?? Movie kaisi hogi?? Sooo excited!! #Tevar" (If the teaser if this amazing, how great would the trailer be? How would the movie be?)
RoyalNsmart says, "Iss Ko Bolte Hain Asli #Tevar Mind Blowing ,Super Duper Zordaar Mazedar Trailer" (This is what you call attitude. Super Duper amazing Entertaining Trailer ).
Vikash Sethia posts, "omg omg #tever has brought tsunami of excitement"
From the teaser, "Tevar" promises to be an all-round Bollywood entertainer with action, romance, dance and drama. The trailer for the film will be released at 7.00 pm; watch out for that at "TevarFilm".