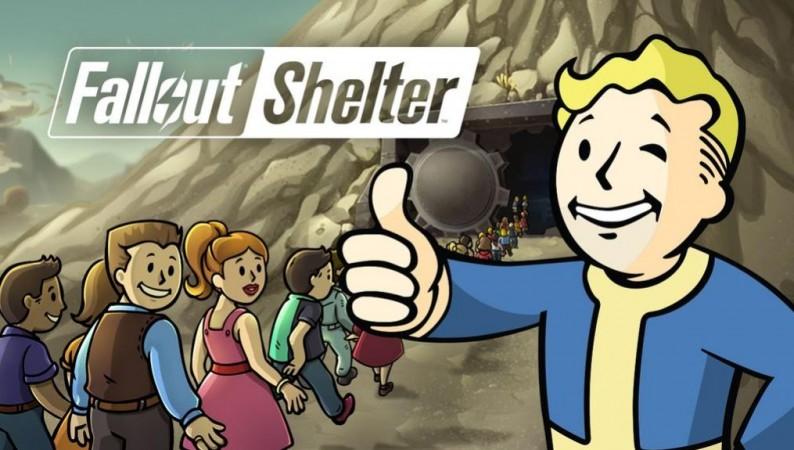 Bethesda's Fallout Shelter, the free-to-play game, has been gaining popularity ever since it was released during E3 2015. Though initially the company released it only to iOS platforms, it has now expanded its scope to Android platforms too.
Below are some of the tips, cheats and fixes shared by assorted reports and fans.
Top 21 Tips, Cheats and Fixes
Players ought to maintain a fixed approach from the start of the gameplay if they want to have better results.
Try to grow SPECIAL stats for your dwellers and only then proceed to populate the place with babies. This helps in getting some high-level SPECIAL stats for the baby.
Do some mixing of the pairs if you want to have a baby, since same bloodline dwellers will not breed or have sex.
Assigning more than one dweller to one work will help player boost their work. Some dwellers can be assigned to search the wasteland.
Players must see that they maintain the ratio of kids and working dwellers since kids cannot work unless they are full grown. More the kids, more the mouths to feed with less work.
Do not arm pregnant women with weapons since they are capable of protecting themselves in the eventuality of a raid or fire breaking out.
Players can name their dwellers based on their stats and this will help them to keep track.
After consummating, you can assign the dwellers back to work as the baby takes 8 hours (real time) to take birth in the vault.
See to it that a new power room is created when the current one is full, note that it won't take you any resources.
Wear Nightwear and go to the living room with dweller of opposite sex as this will improve the Charisma by three points. Thereby helping in increasing the population of the vault.
If players are unable to finish certain objectives then it can be removed by using 'X' button. But note that only one object can be dismissed a day.
If you get a Nightwear try it on the dweller whom you want to go have fun in the living room with another dweller (opposite sex). The Nightwear enhances the Charisma by 3, this helps to produce and increase the population. (Try not to skip the objectives which awards you with the Lunchboxes)
The experience of the dweller will increase with his exploration of wasteland. Higher the level of his enemies, better will his experience be.
If you get an objective where in you need to equip the dweller with weapons or clothes, you can catch any dweller who is already equipped. Unequip him and re-equip him. Your objective will be completed.
The dwellers do not take any damage when they are returning to the vault from the exploration of wasteland. Let them explore more before you recall them
See to it that the dwellers in non-production rooms are kept away from the generator at the time of power loss as they will be the ones who be shut down first.
Place an armed dweller next to the room near the Vaults Door. He will protect when there are raiders.
Sell out the weapons that have damage from 0 to 1 since it is equal to dwellers fist damage. You can sell them and get extra caps.
To boost the happiness of dwellers in a quicker way, get them to have sex. This can be done by placing them in living room. They will get 100% happiness.
Dwellers having a higher Luck and Endurance should be sent to wasteland. It will help them find better items.
Players must too it that they do not rush the room where the dweller there is starving or if he is affected by radiation. This will lead to failure.
Players must ensure they send armed dwellers before rushing specific rooms in order to earn more caps. So in the eventuality of the rush failing, they will be able to at the lease protect themselves.
[Gamepur]
Fixes for Issues faced in Fallout Shelter
Players in Fallout Shelter may have faced the following issues. Here are the fixes for them via Gamepur.
Changing the Language Setting
English, French, Italian, German, and Spanish are the only languages that Fallout Shelter is made available in. Players choosing other languages will get English since it is the default language. Note that the language setting is dependent on the settings of the device. To make changes in language here are the steps:
Change Language in Fallout Shelter for Android:
Go to Settings
Open Language and input option
Select the Language you want.
Change Language in Fallout Shelter for iOS:
Go to Settings
Open the General section
Scroll down to Language and Region
Select the Language you want.
Game Crash Fix
Though there might be multiple reasons for a game to crash, one popular reason is the game not being properly installed.
So players must try uninstalling and re-installing the game.
If the crashing persists, have a look at Compatible devices for Fallout Shelter below:
Note that devices must have 1 or more than 1GB RAM. Lesser than 1GB though will let the game be installed, they will face lags and crashes.
For iOS devices the Fallout Shelter is compatible with iPhone 5 and up, iPad 2/Mini 2 and up, for the OS it needs iOS 7 and up to run.
For android devices, you can always check the compatibility of the device in Google Play store and Game you want to download, like here it's the Fallout Shelter.
Gameplay Issue
Players facing gameplay issues can provide feedback and register a complaint. Below are the steps for it:
Go to the Main Menu
Open the Triple Cogwheels(Options screen)
Hit the Help button
This will lead you to Support Page, where one can access the FAQ's.
Population Maxout Issue to be Solved soon with new update
One issue that many players in the game have had to deal with is -- what after reaching a point where the population has hit threshold mark (maxed out) and they have unlocked everything. So Bethesda is aware of this and has assured its players that they will be bringing new updates that will resolve this issue.
Pete Hines, has said that the development team is working on such updates, "The intention is that for the rest of this year and into next year and beyond, we will continue to develop new stuff for the game - and not just Deathclaws, but to continue to grow and expand the game for folks that have hit 200 people and have maxed out everything. We are asking ourselves: What more can we add content wise for these people? That is definitely a big part of our plan," he said in an interview with MCV.
Four Unique Features in Fallout Shelter instructing us about Fallout 4
Fallout tipster and YouTuber MrMattyPlays has shared a video that shows four unique features of Fallout Shelter that instructs us about the upcoming game, Fallout 4.
Radiation – It has a separate health bar that will surpass the green health bar due to many factors related to raiders, low purification of water and more. This is similar to Fallout 4 radiation system where hitting enemies will leaks out radiation. Here too we can see a red health bar (radiation) overtaking the green health bar.
Rare Weapons and armour – Fallout Shelter shows us some of the unique weapons that Fallout 4 game might unveil after its eventual release. A reason to believe this is a fan question about a particular weapon that is seen in Shelter, to which Pete Hines, vice president of Bethesda replied saying it is from "the upcoming game"
Settlement building – We know that Fallout 4 will let player build their own settlements and Shelter draws its existence from this very idea and it looks like Bethesda wants fans to be prepared for this new feature in the new iteration of Fallout series.
SPECIAL System – Shelter focuses on SPECIAL (Strength, Perception, Endurance, Charisma, Intelligence, Agility, Luck) system. The usefulness of the character depends upon the SPECIAL stat they have. This system is also being used in Fallout 4. Todd Howard, game director and executive producer at Bethesda has been quoted as saying that the company wants to bring SPECIAL system to the fore in Fallout 4. This will define the game's characters. He noted that there will be separate perk for each of the SPECIAL and each value will be from 1 to 10.
Infogaphic on Time spent in Wasteland
Bethesda has shared new infographic explaining Fallout Shelter by the numbers. This infographic is inclusive of information on the number of vaults created to hours played to Raider attacks. This infographic takes the numbers since its debut. There has been no mention if this includes the data from Android users or if it is only iOS data.
Vaults Created – 85,391,869
Sessions Played – 1,082,650,875
Hours Played – 119, 536, 580
Babies Born – 81, 996, 694
Raider Attacks – 119, 536, 580
Below is the inforgraphic, courtesy Bethesda: