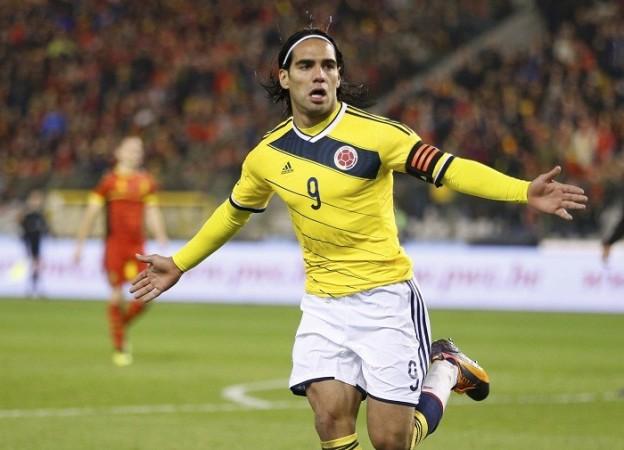 Manchester United boss Louis van Gaal says the chance to secure the services of a prolific striker like Radamel Falcao was too good to turn down, though the Colombian's salary will have a significant impact on the Red Devils' wage bill.
United completed the signing of the former Atletico Madrid striker in the closing moments of the transfer deadline day on a one-year loan deal, with an option to buy. The Red Devils have reportedly agreed to pay a loan fee of £10 million to Monaco, plus a significant portion of the player's £300,000-a-week wages.
Although Real Madrid, Arsenal and Manchester City were also linked to the striker, they all eventually pulled out of the race due to the deal being too expensive. However, United, who have spent in excess to £150 million already this summer, decided to bring the striker to Old Trafford.
And van Gaal is confident the Red Devils made the right choice.
"I am delighted Radamel has joined us on loan this season," van Gaal told the club's official website. "He is one of the most prolific goalscorers in the game. His appearance-to-goal ratio speaks for itself and, when a player of this calibre becomes available, it is an opportunity not to be missed."
Falcao also expressed his delight after signing for the Red Devils, who according to him are "one of the biggest clubs in the world".
"It's a dream come true to join a club like Manchester United, one of the biggest clubs in the world," Falcao told the Red Devils' official website. "I've always dreamt about playing for one of the truly great teams and winning lots of trophies. It is a once in a lifetime opportunity and you can't turn that down.
"I'm a huge fan of English football and watch it whenever I can. Now the reality is I'm going to play there."
Meanwhile, Madrid forward Cristiano Ronaldo feels that Falcao is a "fantastic buy" and will steer United in the right direction this season.
"He is very good player. I think Manchester did very well. I don't think he is the wrong type of player. He is a top player so I don't think it is a wrong buy," Ronaldo said, according to ESPN.
"I think he will be a fantastic buy. Manchester have not started well, two points, so they need quality players and Falcao is a quality player."