The Internet has a tendency to come up with all sorts of amusing stuff every now and then. Social media platforms, in particular, are home to various kinds of information that keep the general public hooked. One such piece that has currently caught the fancy of the netizens is a picture of Union Home Minister Amit Shah.
In the image that has now gone viral on Twitter, Amit Shah can be seen designated as the Prime Minister Of India. A screengrab from an online meeting of top government officials, the picture has the Home Minister in the center but describes him as PM. Also, the screenshot has CMs of various states on both sides.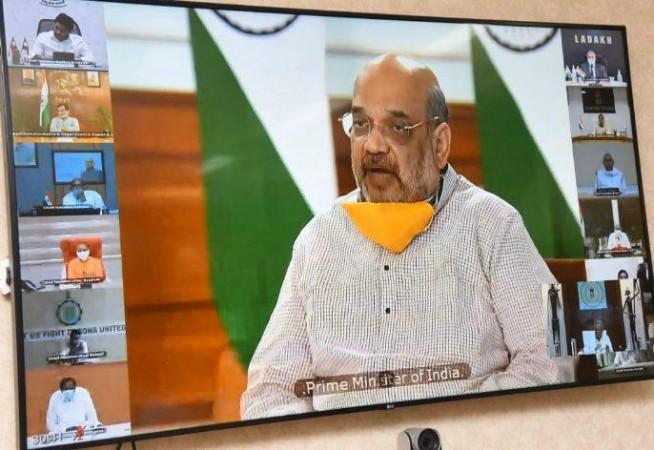 Shortly after the picture found its way on the micro-blogging website, users began to share it incessantly. A user by the name Abhijeet Dipke posted the screenshot and wrote, "Amit Shah is too eager to replace Modi ji."
Fact-checking the image
The picture had started circulating after Prime Minister Narendra Modi on Monday, May 11, chaired a meeting with Chief Ministers of states via video conferencing to discuss an exit strategy in regards to the nationwide lockdown that has been imposed to curb COVID-19.
It should be noted here that whenever such online discussions are held between PM Modi and CMs, a separate window is assigned to all the members with their designations being mentioned at the bottom. The windows appear in the form of a collage on the screens of all the ministers and PM Modi's window is always in the middle.
As more and more pictures of today's video conference came out, it became clear that PM Modi had chaired the meet along with several other members of his cabinet including Amit Shah, who can be seen in the same outfit as in the viral image. However, despite the presence of several cabinet ministers, PM Modi's window would still read Prime Minister of India.
Therefore, it can be concluded that a screengrab was taken when Amit Shah was putting forth his points through PM Modi's window and that is why the description said PM and not Home Minister.
Claim reviewed :
Picture referring Amit Shah as Prime Minister of India goes viral
Claimed By :
Mudit Bhatnagar

.
Fact Check :
False