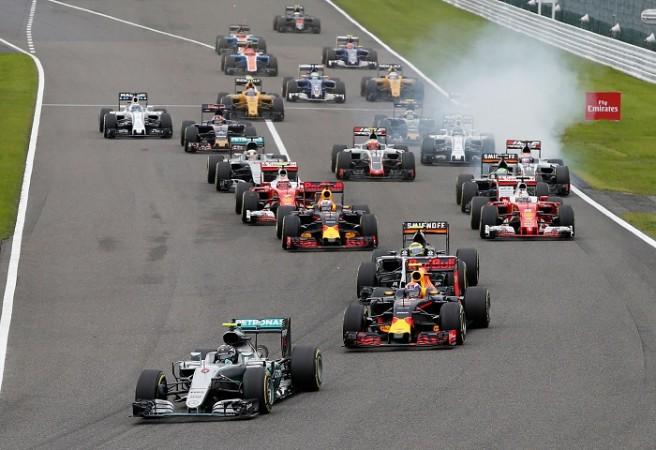 Lewis Hamilton had a nightmare start, Nico Rosberg did not and as a result the German cruised to victory at the Japanese Grand Prix to increase his lead at the top of the drivers' championship table. Hamilton, after a bit of scurrying, overtaking and pit stop strategising, had to settle for third place.
While Rosberg jumped into the race lead from pole position, Hamilton had a forgettable one, ending up in eighth place when the dust had settled. With the pace Rosberg has had all weekend, getting even close to his Mercedes teammate was going to be an uphill battle, and so it proved to be as Rosberg eased to his first Japanese GP victory.
Max Verstappen came in second, 4.9 seconds behind Rosberg, while Hamilton, after pushing the Red Bull driver all the way in the last few laps, finished third. The 1-3 finish for Mercedes also assured them of the constructors' title.
With Rosberg on pole and Hamilton in second, this race was always going to be decided by the start, and then, how well the pit stops go. However, those pit stops were taken out, as far as the race for first was concerned, by Hamilton's disastrous beginning.
Rosberg was smooth and easy, Hamilton just failed to get out properly and just like that any hopes of winning the Japanese GP and reducing the championship lead was gone.
The Brit did well, though, to finish on the podium, using the advantage after the first pit stop to jump up to fourth, before, after applying some pressure, getting the better of Ferrari's Sebastian Vettel to take third place.
As the race wore on Hamilton kept reducing the gap on Verstappen, and there was even a near-overtaking manoeuvre in the penultimate lap, but Verstappen held firm and it was Rosberg who was grinning from ear to ear, as he increased the lead at the top to 33 points.
Ferrari drivers Vettel and Kimi Raikkonen finished fourth and fifth, while Verstappen's teammate Daniel Ricciardo took sixth. Force India's Sergio Perez and Nico Hulkenberg were seventh and eighth, with Felipe Massa and Valtteri Bottas rounding out the top ten.