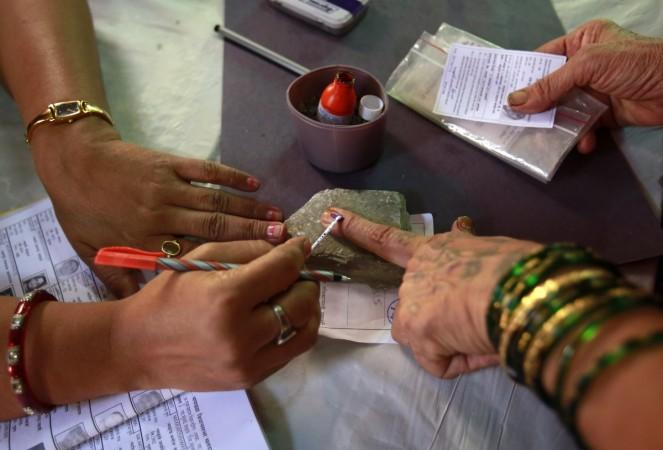 Exit polls have predicted a clear majority for the BJP in Jharkhand but far lower than its Mission 44 target in Jammu & Kashmir in the recently-concluded assembly elections that saw aggressive campaigning by Prime Minister Narendra Modi for his party.
Jammu & Kashmir is headed for a hung assembly where PDP emerges single largest party.
Jharkhand
Soon after the fifth phase of elections in Jharkhand ended on Saturday with 71.25% voter turnout, psephologists came out with their exit polls ahead of 23 December when votes will be counted.
The Bhartiya Janata Party (BJP) is set to win a clear majority seats by grabbing 61 of the 81 seats. predicted Today's Chanakya, while ABP News-Nielsen predicted 47 seats.
Both Today's Chanakya (TC) and ABP predicted that Jharkhand Mukti Morcha (JMM) will trail the BJP; TC said that it will win 12 seats while ABP News-Nielsen gave it 10 seats.
While both TC and ABP News-Nielsen placed the Congress at the third place with 4 and 7 seats respectively, the Jharkhand Vikas Morcha (JVM) will be reduced to a minority either with 5 according to ABP News-Nielsen or 2 seats as per TC's exit polls.
Jharkhand Exit Poll Prediction by Today's Chanakya
Parties
Seats in 2009
Seats in 2014
BJP
23
61 ± 8
Congress
21
4 ± 2
JMM
18
12 ± 4
JVM
11
2 ± 2
Others
8
2 ± 2
Jammu & Kashmir
The BJP is predicted to fall short of its Mission 44 target in the 87-member Jammu & Kashmir assembly, where Mufti Mohammed Sayeed-led People's Democratic Party (PDP) is said to emerge victorious, winning 32 to 38 seats but fall short of clear majority, according to C-Voter.
The state registered its highest voter turn-out in assembly elections in the last 25 years with an estimated 65 per cent of voters casting their votes.
C-Voter has placed the BJP as the second largest party with 27 to 33 seats and have given the ruling National Conference (NC) 8 to 14 sets.
The Congress is expected to finish fouth, with 4 to 10 seats.
The exit poll suggested a hung assembly in J&K, if PDP fails to form an alliance with other parties, which is unlikely as PDP has reportedly refused to join hands with either BJP or Congress.
The assembly elections in the state went by in five phases with the fifth bringing out 76% turnout on Saturday.
The assembly election results will also indicate whether the BJP has been able to increase its footprint in J&K that has been traditionally dominated by the NC and the PDP in alliance with the Congress.
C-Voter Exit Poll for Jammu & Kashmir
Parties
Seats (approx)
PDP
32-38
BJP
27-33
NC
8-14
Congress
4-10
Others
2-8