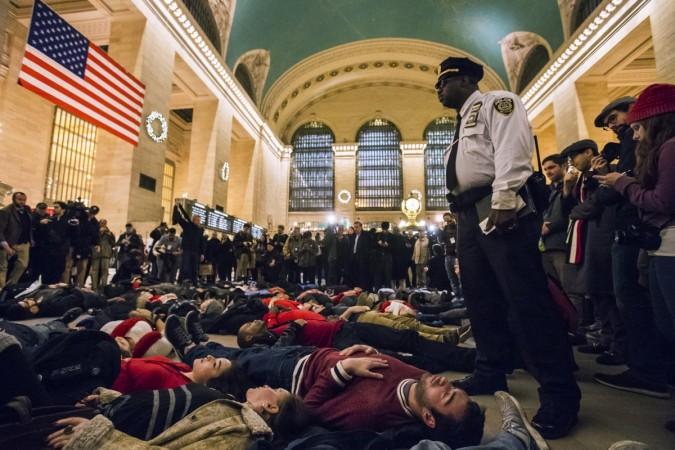 Days after riots broke out following a grand jury verdict in the Ferguson shooting incident, fresh protests erupted in New York city Wednesday night after a jury decided not to indict a white police officer who killed an unarmed black man in a chokehold.
Eric Garner, 43, who was asthmatic, died on 17 July this year, after a police officer held him in a chokehold as he was being arrested for selling untaxed cigarettes. The man reportedly shouted "I can't breathe" several times during the scuffle, following which he died. A medical examiner had termed the death a homicide.
Hundreds of protesters poured out to the streets late on Wednesday in angry demonstrations against the excessive use of force by police on black individuals, even as US Attorney General Eric Holder said that the Justice Department will conduct a federal inquiry.
Riots had broken out in Ferguson in Missouri after white officer Darren Wilson was let off by a grand jury in the shooting and killing of a black teenager this August.
President Barack Obama, who had held meetings with police officials following the protests, said on Wednesday that the New York grand jury's decision will spark more protests.
"There was a decision that came out today by a grand jury not to indict police officers who had interacted with an individual named Eric Garner in New York City -- all of which was caught on video tape and speaks to the larger issues that we've been talking about now for the last week, the last month, the last year and, sadly, for decades," Obama said.
Several protesters were arrested on Wednesday, Reuters reported.
Twitterati also protested the decision with the hashtag #ICantBreathe.
I guess a video of a cop choking a man to death isn't enough evidence to show a cop choking a man to death #ICantBreathe

— GDP (@gavin_PD) December 4, 2014
chants at Grand Central quickly went from #ICantBreathe to #HandsUpDontShoot pic.twitter.com/iBUwh6wa2D — Cristina Everett (@cristinaeverett) December 4, 2014