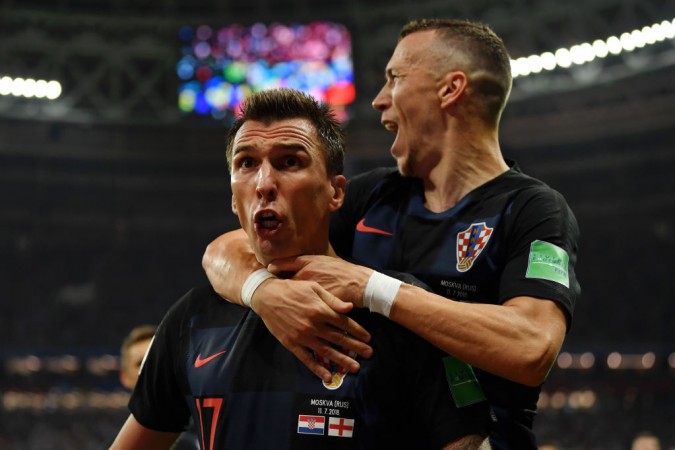 Hello and welcome to the highlights of Fifa World Cup 2018 semi-final between England and Croatia at Luzhniki Stadium in Moscow.
Live Updates
2018-07-1202:25 (IST)
Valiant Croatia make World Cup history
Croatia had headed into the match after surviving two back-to-back penalty shootouts. There were some injury concerns as well and when they conceded the first goal as early as in the fifth minute, it looked like a mountain to climb for Dalic's men.
However, Croatia hung in there and Perisic's 68th-minute equaliser swung the momentum back in favour of their team.
Croatia displayed immense resilience and showcased their fitness levels as the match headed into extra-time. England lacked the decisive edge in the extra-time and Mario Madnzukic's late winner sealed them the final spot.
It will be Croatia vs France in Sunday's final in Moscow. Meanwhile, Harry Kane-led England will face Belgium in the loser's final — the third-place match in St. Petersburg on Saturday.
It's not coming home for England but Southgate and his men have certainly impressed quite a few with their sprirted run to the last-four.
2018-07-1202:17 (IST)
Full time at extra-time: CRO 2-1 ENG
Heartbreak for England, joy for Croatia. Luka Modric's men become the first Croatian side to reach a World Cup final.
England get a free-kick in the last few seconds but nothing comes off it. As the final whistle is blown, the English players sink to the ground in disappointment. At the other end, the Croatian players and fans erupt in joy.
Vrsaljko has lifted Zlatko Dalic and put him on the ground. Scenes in Moscow!
Meanwhile, Gareth Southgate is off to the turf to console his wards. England have fought hard but they were disappointing after the first-half today.
2018-07-1202:05 (IST)
120 min: Four minutes of added time
Can England save their World Cup campaign in the last four minutes of this match. It doesn't look like it as Croatia are still looking for one more.
Kramaric tried to finish a counter on his own but he hit to the outside of the net. Perisic, who was free on the right, was disappointed and frustrated as he expected Kramaric to find him inside the box.
2018-07-1202:01 (IST)
119 min: Croatia make one last change
Captain Luka Modric is being replaced by Milan Badej of Fiorentina.
2018-07-1201:59 (IST)
114 min: Croatia make another change!
No surprises here as Croatia replace striker Mandzukic with a defender in Corluka. The goal-scorer takes his own sweet time to walk off the pitch.
Trippier meanwhile was carried away after suffering a cramp. England are a man down here.
Southgate had earlier replaced Kyle Walker with Jamie Vardy.
2018-07-1201:52 (IST)
109 min: GOAL! Croatia take the lead
Croatia are 11 minutes away from a World Cup final now, thanks to Mario Mandzukic's lethal strike.
England weren't at their best since the start of the second period of extra-time. This time they failed to clear a high ball and Perisic took full advantage of it by heading it to the left of Mandzukic inside the box.
The big man does no mistake as he fires one low into the net. The Croatian fans at the Luzhniki Stadium erupt in joy.
2018-07-1201:47 (IST)
Half-time at extra-time: It's ENG 1-1 Croatia
England certainly dominated the first period of the half-time after struggling in the second 45 minutes. Danny Rose has been threatening since he came on.
Can the last 15 minutes of open play be enough to decide the finalist or will we head into another penalty shootout?
2018-07-1201:45 (IST)
105+2 min: Brave save from Pickford
Pickford is the man for England! He denies Croatia the lead in the first period of extra-time.
Perisic fires a cross in from the right into the box and it is met well by Mandzukic. Pickford though was up to the task as he stuck his foot out to make what can be the most important safe of the match.
Meanwhile, Mandzukic is wobbling off the field after getting some medical attention.
2018-07-1201:38 (IST)
101 min: Croatia make another change
Rebic comes off for Croatia and he is being replaced by Kramaric, who scored for them in the quarter-final.
2018-07-1201:37 (IST)
99 min: England nearly get the lead
England nearly scored off another set-piece. Stones sent in a powerful header from the corner towards the top left. Subasic had no chance but Vrsalljko, who was stationed at the far post, chested the ball away from danger.
Crucial save and Stones is showcasing his frustration.
2018-07-1201:34 (IST)
90+5 min: Rebic gets into the referee's books
Rebic brings down Rose, who was trying to manufacture a counter. Nothing comes off the resulting free-kick.
Meanwhile, Croatia's Strinic went off with an injury concern and he was replaced by Pivaric. England had replaced Young with Rose.
2018-07-1201:24 (IST)
Full-time: It remains 1-1 in Moscow.
We need another 30 minutes and maybe more to decide the second semi-finalist here. Croatia came with renewed energy after the break and Ivan Perisic karate-kicked the equaliser and even hit the post.
Do Croatia have the energy to play the extra 30 minutes for the third straight time?
Both teams have been in this situation before. Notably, matches that had gone into extra-time have inevitably gone to the shootout so far at this World Cup.
2018-07-1201:10 (IST)
80 min: It's still 1-1 in Moscow
Croatia are keeping up the pressure. They are desperately looking for another one as we head into the last 10 minutes of the normal time in Moscow.
Zlatko Dalic should introduce Kramaric to ride this wave of attacking intent from his men. Are they ready for another 30 minutes of football after two back-to-back energy-sapping encounters?
2018-07-1201:03 (IST)
74 min: England make their first change
Raheem Sterling who had yet another ordinary evening makes way for Manchester United's Marcus Rashford. Meanwhile, Croatia are continuing to making inroads into the English box with Modric playing a more attacking role.
2018-07-1201:01 (IST)
71 min: Perisic hits the post!
Croatia could have got their second goal, Perisic hits the inside of the post from the left after racing into the box. The deflected ball drops in front of Rebic but he isn't able to test Pickford.
Croatia certainly getting a better grip on proceedings now.
2018-07-1200:58 (IST)
68 min: GOAL! Croatia equalise!
Croatia looked threatening since the break and their efforts have been rewarded. Sime Vrsaljko delivered a beautiful cross from the right and Ivan Persic got in beyond Kyle Walker and uses his foot while in the air to send the ball to the left of Pickford.
It's 1-1 in Moscow. Can Croatia apply more pressure!
2018-07-1200:54 (IST)
65 min: Croatia test the English defence!
Modric gets involved as he receives puts a dangerous cross from the right only to be deflected by Stones. Perisic gets holds off the deflected ball and fires it towards goal from the edge of the box but Pickford isn't even needed as it takes another deflection.
2018-07-1200:45 (IST)
53 min: Referee is being kept busy here
Kyle Walker gets into the referee's book this time as things got a bit tense at Croatia's attacking third. The Tottenham Hotspur star denying Croatia a chance to take a quick free-kick from the left.
Luke Modric's men are having a lot of possession but they're not able to trouble Pickford.
2018-07-1200:40 (IST)
49 min: Mandzukic gets into the referee's books
Mandzukic becomes the first player of the night to get a yellow card. The referee who had been very particular about not getting his cards out books Mandzukic for showing dissent. Rebic committed a foul by bringing Kyle Walker down but it's the striker who gets booked.
2018-07-1200:34 (IST)
Croatia get the second-half underway
Will Harry Kane create history by becoming only the second English captain after Bobby Moore in 1966 to lead the Three Lions into the final? Croatia need to step up if they're to avoid playing the loser's final on Saturday.
2018-07-1200:22 (IST)
Halt-time: ENG 1-0 CRO
England have held on their lead after Kieran Trippier put them ahead as early as in the fifth minute. Another goal from a dead-ball situation for Southgate's men. They have been brilliant from set-pieces this tournament.
Croaita got a free-kick n the added minute but it came to nought. English defence has been solid as a rock in the first 45 minutes.
Kyle Walker, John Stones, and Harry Maguire have given their best to keep Luka Modric & Co. from equalising. Ashley Young dropped back quite often to help out his buddies at the back.
For Croatia, Remic was dangerous but they hardly had any touches inside the English box. Modric needs to step up and deliver if Croatia are going to avoid another semi-final exit at the World Cup.
2018-07-1200:10 (IST)
40 min: It is still 1-0 in Moscow!
England are doing just fine to hold on to their one-goal lead. Stones and Young have done some good work at the back.
Meanwhile, here's how England fans celebrated at Hyde Park when Trippier put them in the lead.
2018-07-1200:07 (IST)
35 min: Jesse Lingard wastes a chance!
The Manchester United man had a great chance from just outside the box. Harry Kane made a blistering run down the centre and played Delle Ali down the right. Ali played it back to Lingard, who failed to find the corner. What a miss!
2018-07-1200:04 (IST)
32 min: Croatia get their first shot on goal
First real effort on goal from Croatia. Remic puts a harmless cross into the box but Stones gets his leg to it. Remic gets another chance, shoots it with his left foot but straight into Pickford's chest.
2018-07-1123:54 (IST)
22 min: Croatia nearly concede another!
Nervous moments for Croatia. Subasic receives a backpass and plays it Strinic at the left. The Sampdoria man, instead of clearing it, gifts it to Raheem Sterling at the edge of the box. The Manchester City striker tries to find Harry Kane inside the box but the English captain is ruled off-side.
2018-07-1123:50 (IST)
19 min: Croatia denied a corner-kick!
Ivan Perisic made some space for himself down the left and shot from outside the box. The powerful shot kissed Kyle Walker's boot before going out of play. However, Croatia were not given the corner even as Perisic pleaded with the referee.
Meanwhile, the England fans are buzzing at the Luzhniki Stadium. What a start this has been for the Three Lions.
2018-07-1123:46 (IST)
14 min: Two back-to-back corners for England!
England have won two corner kicks in the space of two minutes. Maguire, the hero against Sweden, gets was found guilty of pushing the first time and he puts a header wide off the post from the second corner-kick which was taken by Trippier.
2018-07-1123:42 (IST)
10 min: England are looking menacing
Croatia haven't made the best of starts here. They had a corner immediately after Trippier's goal but nothing came of it. At the other end, England are making some good runs into the attacking third.
Meanwhile, here's an optimistic Croatian fan!
Excellent tactics by the Croatians. Lure them into a false sense of security before destroying them!

"Feed the fish before you kill it" - Modric right now #CROENG

— Ryan Cullen (@RyanCullen90) July 11, 2018
2018-07-1123:40 (IST)
5 min: GOAL! England are ahead in Mocsow
Another set-piece, another goal. England have scored nine of their 12 goals from set-pieces in the ongoing World Cup.
It's Kieran Trippier for the Three Lions. HIs first international goal for England and what a strike it was. Luka Modric commits a foul just outside the box to concede a free-kick at a dangerous position.
Trippier lifts it over the Croatian wall and finds the back of the net. Subasic had no chance.
2018-07-1123:31 (IST)
England get the semi-final underway
England are in whites while Croatia are sporting their purple colour. All eyes will be on Luka Modric, will he play upfront today?
Both teams have goalkeepers who are in fine form. Pickford was the man of the match for England against Sweden while Subasic has been Croatia's hero in their penalty shootouts.
2018-07-1123:23 (IST)
Southgate's lookalike is at the stands!
Both teams are waiting at the tunnel. Gareth Southgate is making his way to the dugout. What a show this has been from the waistcoat-wearing English tactician. Meanwhile, his lookalike is in the stands at the Luzhniki Stadium.
2018-07-1123:19 (IST)
We're minutes away from the kickoff
Quite a lot of England fans at the Luzhniki Stadium. The atmosphere is electrifying in Moscow. Meanwhile, former England captain Wayne Rooney has sent his wishes to Southgate's Three Lions.
2018-07-1122:47 (IST)
What to expect from Croatia?
All the hype ahead of the match has been around England and Croatia wouldn't have complained about it.
The Croatian engine room is run by two of the best midfielders remaining in the tournament — Real Madrid's Luka Modric and Barcelona's Ivan Rakitic.
The European side have already faced two back-to-back stern tests as they had to win penalty shootouts in both the Round of 16 and the quarter-final.
Croatia will be hoping the likes of Mario Mandzukic and Ivan Perisic step up on the big night. It will be interesting to see how much Croatia have left in their tank to offer, given they have survived two energy-sapping outings.
2018-07-1122:43 (IST)
Here's some head-to-head data
England have beaten Croatia in their last two meetings but they wouldn't have forgotten the decisive defeat in the Euro 2008 qualifiers at Wembley that stalled their progress to the continental tournament.
2018-07-1122:38 (IST)
Can England do it tonight?
"It's coming home" is reverberating across the streets of major cities in England and will be heard inside the Luzhniki as well. English fans, over the years, have suffered numerous heartbreaks, after the team's repeated failures at major tournaments.
However, Gareth Southgate has got them believing. His young squad, led by Harry Kane, haven't been as flamboyant as many other sides in the tournament but have just done enough to reach the last-four.'
Kane is leading the race for the Golden Boot with six goals but the Three Lions have certainly not been a one-man army. They have played free-flowing football with the likes of goalkeeper Jordan Pickford John Stones, Harry Maguire, Dele Alli Kieran Trippier among others stepping up at different occasions.
England have managed to find spark from open play but they have been lethal from the set-pieces, especially the corners that displays the work the waistcoat-wearing Southgate has done in very little time he has had with the national team.
2018-07-1122:30 (IST)
The starting lineups are out!
The teams are out. England have made no changes to the team that beat Sweden in the quarter-final. Why would they after that dominant performance.
Meanwhile, Croatia goalkeeper Subasic and full-back Vrsaljko are fit for the clash after injury concerns. They both are starting as is Marcelo Brozovic.

England: Pickford, Walker, Stones, Maguire; Trippier, Alli, Lingard, Henderson, Young; Sterling, Kane.
Croatia: Subasic, Vrsaljko, Strinic, Vida, Perisic, Lovren, Rakitic, Modric, Brozovic, Mandzukic, Rebic.
2018-07-1122:19 (IST)
Who will join France on Sunday?
Didier Deschamps' men came up with a clinical performance on Tuesday against Belgium to book a place in Sunday's final.
England and Croatia have a chance to join the Les Blues in Moscow. We're a little more than an hour away from what promises to be an exciting contest between two teams who have are tactically strong over the last few weeks in Russia.