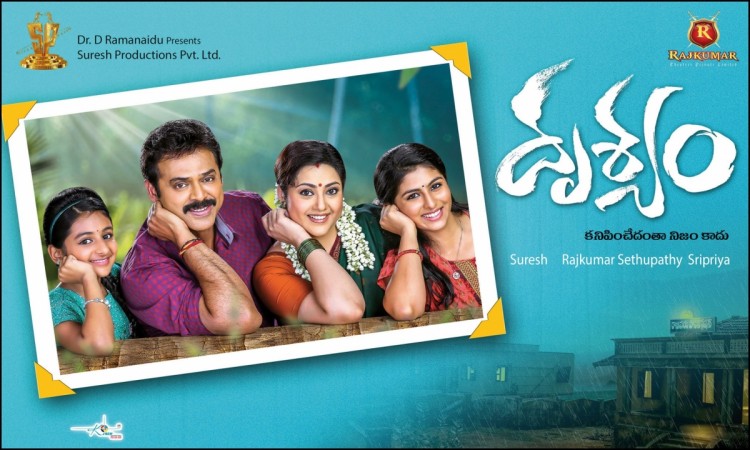 Venkatesh-Meena's "Drushyam" is all set to hit screens on Friday, 11 July.
The film is carrying positive reports from special shows that were screened on Wednesday. Celebrities including V.V.Vinayak, Dasarath and Maruthi have praised "Drushyam" as well as the performance of Venkatesh.
"The movie is very good and Venkatesh has given a superb performance as a middle class man," Indiaglitz quoted Vinayak.
"'Drushyam' is a very good film and Venkatesh's performance is excellent. I definitely say that this film will become a trendsetter in family movies" Maruthi added.
While celebrities have given positive feedback for the film, it will be interesting to see if the Venkatesh starrer will be able to impress the audience with its content.
Directed by Sripriya, "Drushyam" is a thriller drama and a remake of Malayalam blockbuster flick "Drishyam", starring Mohanlal and Meena. While Venkatesh reprises Mohanlal's role, Meena has been retained for the Telugu remake. The film's other cast members include Nadhiya, Naresh, Ravi Kale, Chalapathi Rao, Paruchuri Venkateswara Rao, Chaitanya Krishna, Baby Esther and Kritika.
The film's story is written by Jeethu Joseph and music is composed by Sharreth. The project is produced by D. Suresh Babu and Rajkumar Sethupathi.
The Malayalam film "Drishyam" was a big hit at the box office earning over ₹50 crore and turned out to be one of the biggest hits in Malayam cinema. The success of the film has made makers from other film industries to take up the project and make the film with popular stars of south cinema. The Kannada version of "Drishyam", starring Ravichandran and Navya Nair, opened to good response when it hit screens a few weeks back.
The Telugu version "Drushyam", is expected to take good openings upon its release. Actor Venkatesh, who is predominantly known for doing commercial action entertainers, has moved out of his comfort zone and has acted in his first non-commercial film. This is the first release of the actor in 2014. He had three releases including "Seethama Vakitlo Sirimalle Chettu" (SVSC), "Shadow" and "Masala" last year. Of these films only "SVSC", a family drama, turned out to be a big hit. It will be interesting to see if "Drushyam" will add another feather to his cap.
"Drushyam" is understood to be a faithful remake of the original with very few changes incorporated in it. Whether the film will repeat the success of Mohanlal's "Drishyam" is something one needs to wait and watch.