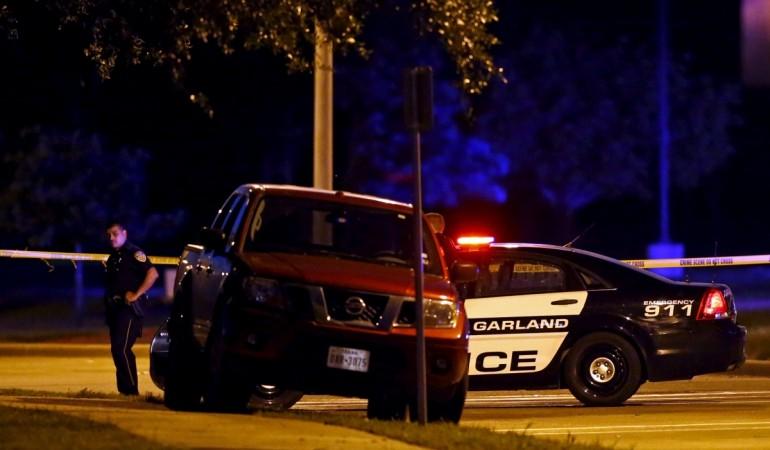 Two armed men opened fire outside a venue in Garland, Texas, where a controversial 'Draw the Prophet' contest was being held, before being shot down by the police on Sunday.
The incident also led to a bomb scare in the area, as police were checking for an 'incendiary device' in the gunmen's vehicle, and the bomb squad was summoned. Blasts were reportedly heard after the FBI bomb squad used electromagnetic pulses to detect explosives.
According to tweets from pro-Isis Twitter accounts, the attack was launched by supporters of the Islamic State who had pledged allegiance to the terror group.
A British Isis fighter posted tweets that read - "2 of our brothers just opened fire at the Prophet Muhammad (s.a.w.) art exhibition in texas" and "They Thought They Was Safe In Texas From The Soldiers of The Islamic State", according to SITE Intelligence, an online watchdog of jihadist activities.
One of the gunmen is believed to have tweeted about the impending attack earlier on Sunday, saying 'May Allah accept us as mujahideen'.
The gunmen drove up to the Muhammad Art Exhibit event at the Curtis Culwell Center as it was coming to an end, and began shooting at a Garland ISD security officer.
"The GISD security officer's injuries are not life-threatening. Garland Police officers engaged the gunmen, who were both shot and killed," the City of Garland wrote on its Facebook page.
The event was held by American Freedom Defense Initiative (AFDI), whose President Pamela Geller had made the announcement of the contest earlier this year.
"We're holding this exhibit and cartoon contest to show how insane the world has become — with people in the free world tiptoeing in terror around supremacist thugs who actually commit murder over cartoons. If we can't stand up for the freedom of speech, we will lose it — and with it, free society," she had said.
About 350 entries were reportedly received, and a $10,000 cash prize was set for the winning entry.
Drawings of the Prophet are considered blasphemous in Islam.
In January, two gunmen gunned down the editor and staff of Charlie Hebdo magazine in France for its cartoons of the Prophet.
The identity of the gunmen killed in Texas is still not clear.
"I have no idea who they are, other than they're dead and in the street," city police spokesman, officer Joe Harn, told Reuters.
#ISIS fighters/supporters celebrate, forward what appears to be IS-pledged claim of shooting in #Texas

— Rita Katz (@Rita_Katz) May 4, 2015
Related