The First Lady of the United States, Melania Trump, has returned home after a week-long hospitalization as she underwent surgery for a kidney condition. And, Donald Trump welcomed his wife with an incorrect spelling of her name.
Upon FLOTUS's arrival at home, Trump took to Twitter to update on her health as he wrote: "Great to have our incredible First Lady back home in the White House. Melanie is feeling and doing really well. Thank you for all of your prayers and best wishes!"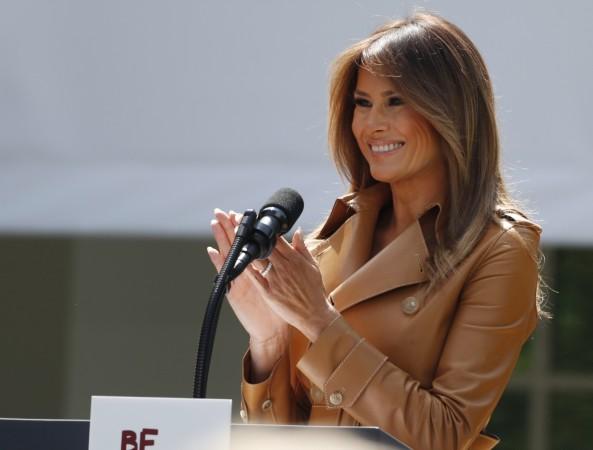 Following the blunder, the tweet was quickly removed from his Twitter account and another tweet with a correct spelling of her name emerged this time.
Stephanie Grisham, the spokeswoman of the FLOTUS, said in a statement, "The first lady returned home to the White House this morning. She is resting comfortably and remains in high spirits. Our office has received thousands of calls and emails wishing Mrs Trump well, and we thank everyone who has taken the time to reach out."
Although the president quickly corrected the spelling, it seems like the Twitter users were quick to notice the slip-up as they flooded the social media platforms with thousands of hilarious reactions.
Check out some of the reactions here.
Pretty sure he meant Ivanka, the daughter.

— Just a covfefe cover girl (@NefertitiVerita) May 19, 2018
Wonderful. But do tell us more about this Melanie.

— Jarrett Bellini (@JarrettBellini) May 19, 2018
Michael Avenatti now furiously searching for payments from Trump to a "Melanie".

— Erinescence (@Erinescence) May 19, 2018
The first lady was hospitalised at the Walter Reed National Military Medical Center, Maryland since Monday, May 14. She was said to have treated for kidney embolisation, a benign kidney condition.
She herself tweeted on May 16 with a thank you note to the medical unit. She wrote: "A sincere thank you to Walter Reed Medical Unit @WRBethesda & to all who have send good wishes & prayers! I am feeling great & look forward to getting back home @WhiteHouse soon."
Later on Friday, she also tweeted about the school shooting at a Houston-area high school as well.