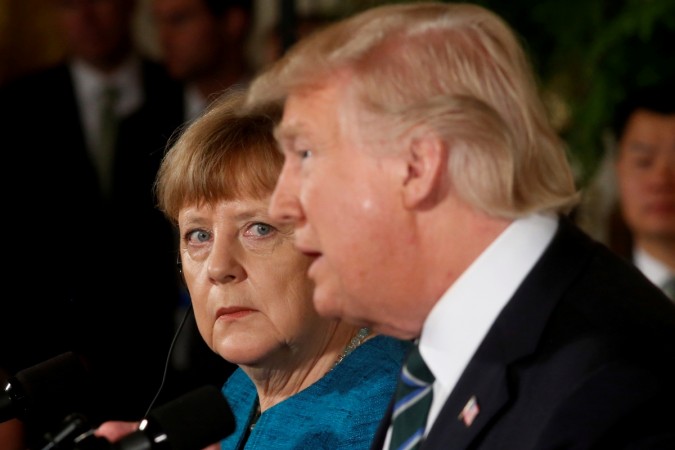 US President Donald Trump and German Chancellor Angela Merkel's first public appearance together, in a meeting at the White House on Friday, was marked with several awkward moments. And the most awkward was the US President's refusal to shake hands with Merkel during a photo op at the Oval Office despite the reporters and the German Chancellor herself suggesting the same.
Trump refused to react or even look at Merkel when reporters and photographers asked him to shake hands with the German Chancellor. When the media repeated the request, Merkel turned to Trump and reportedly said, "They want a handshake." The US President, however, ignored the suggestion and continued smiling at the cameras with his hands to himself. Merkel, who was evidently uncomfortable, shrugged for a moment and then smiled at the media.
Donald J. Trump appears to ignore requests for a handshake with Angela #Merkel during their first meeting.
Credit: @businessinsider pic.twitter.com/Q4QZqpabJN

— The Kelves (@the_kelves) March 17, 2017
Wiretapping allegations:
Trump, during a joint press conference with Merkel at the East Room of the White House on Friday, refused to go back on his claim that the British intelligence tapped his phones at the request of former US President Barack Obama in 2016, thereby putting at risk a major rift with one of the most important allies of the US. The White House has not yet produced any evidence to support the allegations made on the basis of an unverified report by Fox News.
The second awkward moment between the two leaders came when Trump was asked about the Fox News report by a German reporter and he joked that he and Merkel at least had something in common. "As far as wiretapping, I guess by this past administration, at least we have something in common, perhaps," Trump said turning towards the German Chancellor, who did not smile at the joke. She took some time to process what the US President said and then began arranging her papers, a frown evident on her face.
Merkel's mobile phone had been tapped by the National Security Agency (NSA) during Obama's administration as part of a program that the former US President brought to an end following leaks by Edward Snowden. The wiretapping allegations overshadowed the other aspects of the German Chancellor's visit, which is a crucial one for US and German relations.
Trump's stance on NATO:
Trump seemed to have changed his stance on NATO by expressing strong support for the organisation during the joint press conference on Friday. He had criticised NATO during his election campaign lashing out at members for not paying their "fair share" for their defence.
Trump, however, did reiterate his stand that nations under NATO must pay their fair share. "Many nations owe vast sums of money from past years and it is very unfair to the United States. These nations must pay what they owe," he said. Trump also thanked Merkel for her commitment to increase spending and work towards the two percent figure that every nation under NATO, including Germany, is required to spend on defence.
Merkel, at the beginning of the press conference, made a veiled attack on Trump referring to his previous comments on her. She said that it was "much better to talk to one another than about one another." During his election campaign, Trump had frequently attacked Merkel for "ruining" Germany by allowing refugees and migrants from Syria to enter the country. He had also accused Hillary Clinton of trying to be "America's Angela Merkel."
Trump's stance on EU:
Trump has always supported Britain's departure from the European Union (EU) and has also been sceptical about multilateral trade agreements. The US President, at the joint press meet, said that the country would respect "historic institutions" and "recognize the right of free people to manage their own destiny."
The statement may have dismayed Merkel who said that the "success of Germans has always been one where the German success is one side of the coin and the other side of the coin has been European unity and European integration. That's something of which I'm deeply convinced."
The German Chancellor also said that Trump "stands up for, as is right, American interests" just as she stands for the interests of Germany. She added that both leaders were "trying to address also those areas where we disagree but tried to bring people together... We need to be fair with each other." She further added that both the US and Germany were expecting "that something good comes out of it for their own people."