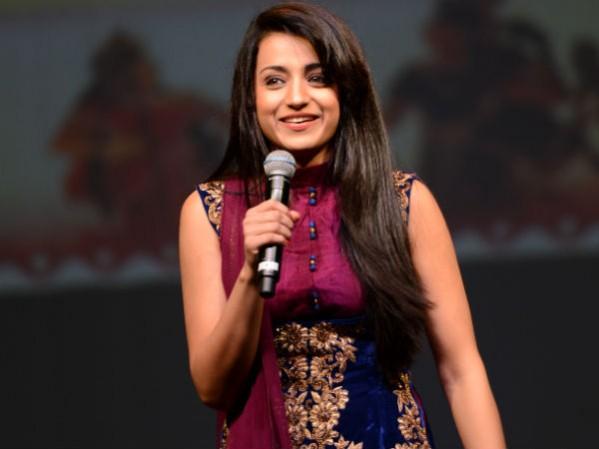 Trisha Krishnan has reacted in strong words after she was abused online by a section of people supporting Jallikattu. She took to Twitter to thank police personnel, her film unit and well-wishers when she was targeted by the supporters of the bull-taming sport.
The actress tweeted, "Before i break my silence on d concerned issue,i would firstly lik 2 thank d entire police personnel of Tamil Nadu for makin sure i reached... home safe last night n for being a source of comfort n strength to my family who was put through unnecessary stress and agony. [sic]"
Trisha Krishnan clarified that she never spoke against Jallikattu. "That bein said,I am shocked n mortified at d haters n d kind of filthy language bein used jus bcoz u have free access 2 social media [sic]," she said. She specially mentioned Simbu for standing by her.
Coming down heavily on those who trolled her in cheap language, she wrote, "Disrespecting a woman and her family is tamil culture?You should be ashamed to call urself a Tamilian or even speak about Tamil culture. [sic]"
The supporters of Jallikattu thronged the sets of her movie, Garjanai, at Karaikudi in Sivagangai district and disrupted the shooting of the film. They raised slogans raised against her, and asked her to withdraw her support to PETA. Twitterati trolled her and abused her using foul language.
The actress is a Goodwill Ambassador of PETA (People for the Ethical Treatment of Animals), which is one of the few organisations that demands Jallikattu to be banned.
Meanwhile, Kamal Haasan has requested people not to hurt Trisha Krishan.
Pls stop hurting MsTrisha.அவர்க்கும் நமக்குமுள வேற்றுமை ஊரறியட்டும் கன்னியும் வாழ நம் காளையும் வாழ வழி செய்வோம். தர்க்கம் தொடர்க நேசத்துடன்

— Kamal Haasan (@ikamalhaasan) January 14, 2017
Jallikattu is a traditional event held in Tamil Nadu as a part of Pongal celebrations — a practice that has existed for over 2,000 years. However, the Centre banned the sport in 2011, taking into consideration the safety of the people and animals involved in the sport.