India cricket team captain Rohit Sharma revealed Sunday, March 18 that Dinesh Karthik was upset over his decision to send Vijay Shankar ahead of him during a tense chase in Nidahas Trophy 2018 final.
Chasing 169 against Bangladesh in the ultimate battle of the T20I tri-series at the Premadasa Stadium in Colombo, India got off to a brisk start as skipper Rohit was taking the opposition bowlers to the cleaners.
However, the momentum swung in Bangladesh's favor after Rohit got out for 56 in the 14th over. With India still needing 70 runs from the last 6.4 overs, all-rounder Shankar was sent in to bat for the first time in his international career, much to the surprise of quite a few in the dugout.
Despite starting the innings on a good note, Shankar struggled to get going against Mustafizur Rahman in the 18th over as he faced four dot balls on the trot leading to more pressure on the Indian unit.
Karthik, who walked in to bat at no. 7, took the onus upon him and played one of the most memorable knocks of his career, helping India gun down 34 runs in the last two overs and thereby winning the tri-series.
'Karthik was upset he didn't bat at six'
The Kolkata Knight Riders skipper's 8-ball 29 included three sixes and two boundaries. Bangladesh cricketers were visibly distraught as Karthik had hit a last-ball six to deprive them of a famous win.
"When I got out, I went and sat in the dugout and he was quite upset that he didn't bat at six," Rohit said.
He added: "But I told him: 'I want you to bat and finish off the game for us because whatever skill you have, it will be required in the last three or four overs because you have that experience, you can do that for us'.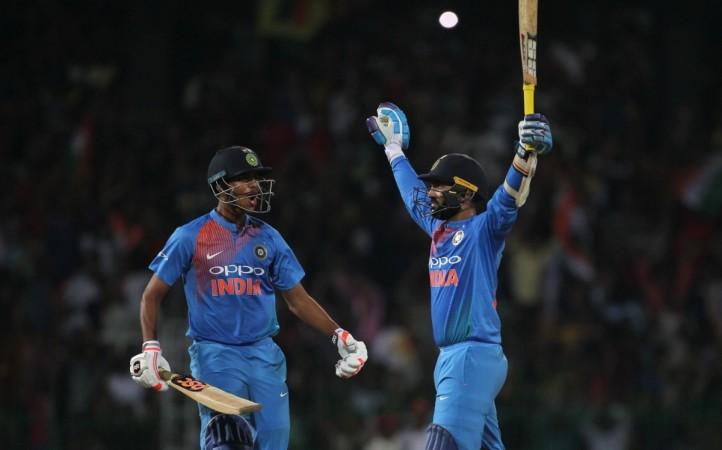 "That is the only reason he did not bat after I got out in the 13th over. He was quite upset with that, but he will be quite happy now with the way he finished off the game.
"He was with us in South Africa but he did not get much game time. What he did today will certainly give him a lot of confidence.
"And the most important thing he has is his belief in himself. Whatever situation comes, he is ready to deliver regardless of his position. That is the kind of guys we need for the team."
Was getting ready for a Super Over: Rohit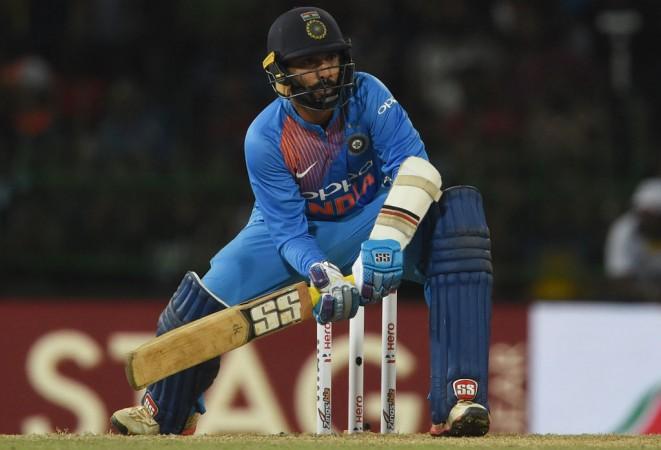 Rohit also said he was getting ready for a possible Super Over and that he did not watch the final ball. The stand-in skipper added he had trusted Karthik and Shankar to get the team past the finish line in Colombo.
"Last ball, we were getting ready for a Super Over. I knew there was a chance for Super OVer if we got a boundary," Rohit said.
"I didn't see the last ball, we went in to wear the pads. But after seeing the dressing room celebrate in the way they did, I came to know that Dinesh had hit the six and we won," he added.
"Our mindset was very positive. We knew that we had an experienced player and a guy who had the talent to play the big shots. But Vijay was batting after a long time, in fact the first time in the tournament and it's not easy to bat under this kind of pressure.
"It's tough for the bowlers as well. Even big and experienced bowlers face pressure in the last over. So we knew if there was only 10-15 runs to get in the final over, we would get it. Seeing Dinesh bat well, we believed he would finish the game."