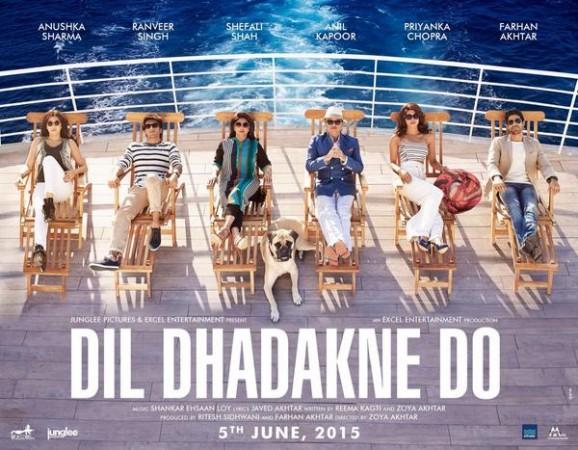 Zoya Akhtar's "Dil Dhadakne Do" is yet to hit screens, but the film has already received praises from Bollywood celebrities.
Several Bollywood celebs, including Amitabh Bachchan, Arjun Kapoor, Deepika Padukone, Riteish Deshmukh, Pulkit Samrat and others, lauded the film after watching a special show of "Dil Dhadakne Do" organised by the makers.
Zoya Akhtar's directorial tells the story of an upper class dysfunctional Punjabi family. The film has an ensemble cast but features Anushka Sharma, Ranveer Singh, Shefali Shah, Anil Kapoor, Priyanka Chopra and Farhan Akhtar in pivotal roles.
Check out what Bollywood celebs have said about "Dil Dhadakne Do" movie.
Amitabh Bachchan: Silences in a film allow the audience to enter the mind of the actor .. rare ... DDD does that in abundance ! Well done Zoya !!
Deepika Padukone: Can't get over what I just saw!!!My most awaited film of the year!!!#DilDhadakneDo #5thJune #MustWatch
Arbaaz Khan: Loved #DilDhadakneDo... It's such a beautiful film. Zoya Akhtar take a bow !!! Entire cast is brilliant... Super film !!! Go see it :)
Madhur Bhandarkar: So many actors, so many characters, all under the roof of one film... and yet #DilDhadakneDo is an effortless delight! Brilliant direction..
Arjun Kapoor: I feel on top of the world after watchin #DilDhadakneDo @ritesh_sid pls convince Zoya to make more films more often !!!
Varun Sharma: Just Watched #DilDhadakneDo WHAT A FILM!! OUTSTANDING Totally Loved It..@FarOutAkhtar @ritesh_sid @priyankachopra @RanveerOfficial... All the Performances are Splendid Pluto is the Cutest!!#DilDhadakaneDo
Genelia Deshmukh: Loved #DilDhadakaneDo ..What a film what performances..Hats off to Zoya Akhtar @ritesh_sid n @FarOutAkhtar for making such a beautiful film
Riteish Deshmukh: #DilDhadakneDo is filled with Good Actors & they out perform themselves, @RanveerOfficial how good are you. @priyankachopra simply WOW.
Abhishek Bachchan: Dil Dhadakne Do is such charming film. Great fun. Well done Zoya. So happy for you. Big love. The entire cast is just perfect. Anil, Shefali, Priyanka, Ranveer, Anoushka, Farhan, Rahul. Well done guys.
Pulkit Samrat: #DilDhadakneDo makes u cry laugh feel n think! Hatin Twitter to limit me to 140 characters! Pure genius work! @ritesh_sid @FarOutAkhtar... #DilDhadakaneDo cannot not mention the adorable #PlutoMehra loved him loved him loved him!!!!!
Karan Johar: Zoya Akhtar has a knack of dealing with human dynamics like no one else...#DDD is funny,poignant and exceptionally written....its EXCELS!!! Congratulations to the entire cast of #DDD...each one special and everyone together complete this beautiful film
Kunal Kohli: #DilDhadakaneDo is BRILLIANT. Every character is fantastic. Each performance a landmark. Zoya Akhtar take a bow. What a film.
Rishi Kapoor: Zoya am so proud!Such a difficult film handled so deftly.A team effort-actors,dp,sound,set,production,Pluto loved it.
Taran Adarsh: #DilDhadakneDo mirrors the lives of the upper crust. At the same time, it's thoroughly entertaining. Just don't miss this film. Must watch!