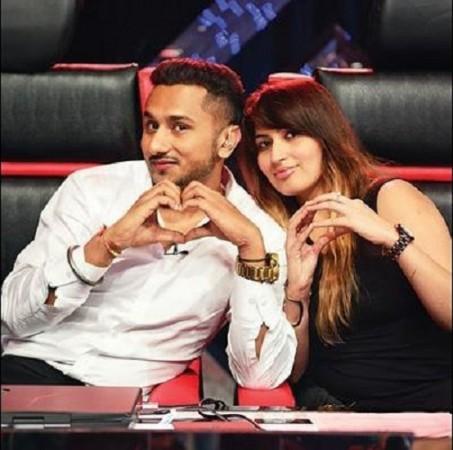 Ever since Yo Yo Honey Singh had fallen sick during Shah Rukh Khan's "SLAM! De Tour", speculations are rife as to what made the rapper suddenly quit the live show midway.
Although, it is known that Singh slipped and injured his back during the rehearsals of show, rumours had it that the rapper quit the show mainly because of a fight that broke between him and SRK, following which the superstar slapped the rapper hard.
However, refuting such rumours, Singh's wife Shalini has now stepped out to defend her singer husband.
During her recent interview with the Hindustan Times, when asked if Singh had a fight with SRK during the "Happy New Year" promotional tour, she said: "Why would he slap him? These are all imaginary stories."
She further stated that Singh respects King Khan a lot and even the latter treats him like his own brother. Singh was advised by the doctors not to travel as he was under medication, but since he had already committed to the superstar, he flew with the team to perform in the show.
However, after the accident, Singh fell extremely sick and hence was forced to return home. Seeing his ailing health, Shah Rukh extended his support and asked him to take rest instead.
"He (Singh) even got some calls asking him this (if SRK slapped him) and he made it clear that nothing like that happened. But even after the clarification those stories appeared, which is strange!" she added.
Speaking about the rumours of the "Desi Kalakaar" star leaving his reality show "India's Raw Star" offending the channel authorities, Shalini once again slammed it, saying that the channel was in fact very supportive and has been inquiring about his health regularly.
"He didn't leave the show unprofessionally. In fact, the first symptoms of his illness started on the sets of that show and throughout the shoot, he was very, very unwell but still kept stretching himself because it was a commitment ... it was his show after all, and why would anyone want to spoil his own show?" said Shalini.