The trailer of Dhruva, starring Ram Charan and Rakul Preet Singh, has received superb reviews from the audience. This video has set a new record by crossing 3 million views on YouTube in 36 hours.
Producer Allu Aravind, who has bankrolled Dhruva under Geetha Arts, released the trailer of the movie on the official YouTube channel of his banner on Friday evening. The 1.57-minute-long video has got 3,006,201 views, 55,838 thumbs up (likes), 4,336 thumbs down (dislikes) and 4,829 comments in one-and-a-half day. The numbers are among the big records of the Telugu film industry.
Dhruva is a remake of the 2015 Tamil action thriller film Thani Oruvan, which revolves around the story of a police officer, who is passionate to destroy the most corrupt person. The antagonist was stronger than the protagonist in the original film. The trailer shows that Surender Reddy, who has directed its remake, has made some changes in its Telugu version and strengthened the character of the hero.
The trailer of Dhruva offers a look at the roles played Ram Charan, Rakul Preet Singh, Arvind Swamy, Nassar, Sayaji Shinde and others. As per the video, the action scenes are well-choreographed and stylish and they are going to be the main highlights of the film. It also offers a glimpse at Ram Charan's sterling performance and sparking chemistry with Rakul Preet Singh and Hiphop Tamizha's amazing background score.
Most of the audience, who commented on the trailer of Dhruva on YouTube, have expressed positive response for the video and their eagerness to watch the film in theatres. We bring you some comments of the viewers. Continue to see them in the Dhruva trailer review by audience:
Sam Thomas: crazy so awsome!!!!!!! as a tamilian i can say this is going to be better than thani oruvan!!!they have made ram charan equally powerful as aravind swamy character wise!!! im waiting! ram charan so stylish!!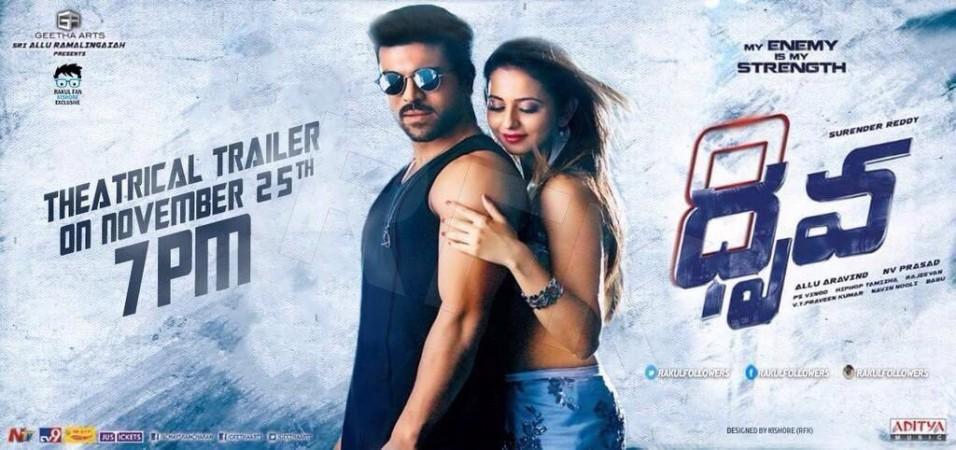 V Bhargav Reddy: coolest trailer man. Ram charan is very stylish in this movie. and aravind swami the villain just awesome. ram charan looks better than jayam ravi in thani oruvan.
Purushotham Reddy: There is no words to say something. it's mind blowing keep rocking" CHARAN ". you are best "dancer" as well as best "fighter" in our telugu film industry good luck.
Dugyani Bikshapathi: hiii im die hard fan of cherry ,,,, after long time cherry is cmng wid stylish,,,n powerfull movie... cherry look was awesome..... as a fan eagerly waitng for full movie. lv u cherry..... aalll the best
Narendra Saradhi: Really marvelous trailer. Charan really rocks. Eagely waiting for release.
Tron: Trailer is simply superb! Arvind swamy best villan I had seen ever Ram charan looking dufferent and stylish!
Mukesh Kanna: This is not going to be great it will be a movie worth your time but it's more hero -centric than villain - centric if you compared the tamil movie with this trailer this movie was not meant for a mass actor ram charan so I am pretty sure it is going to be a family movie like singam then a thriller like thani oruvan