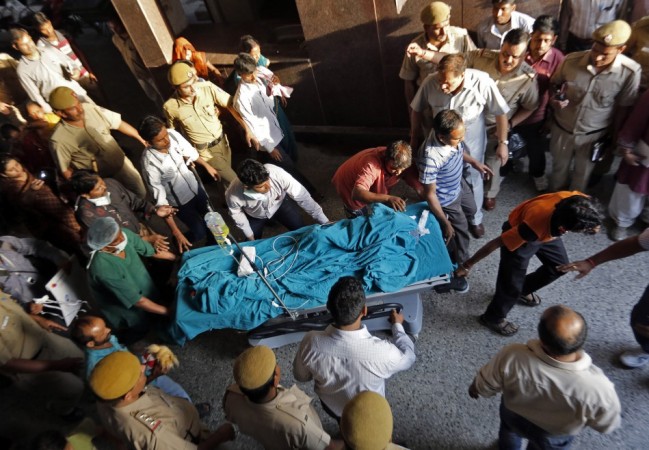 As the 5-year-old rape victim continues to fight for her life in a Delhi hospital, reports emerged on Sunday that she was gang-raped by two men.
According to reports, Manoj Kumar, the Delhi rape accused who was arrested on Saturday, told police that another man was involved in the barbaric crime.
Police on Sunday claimed that Manoj has named an accomplice, Pradip Kumar, who helped him tie the victim's hands before she was raped, Indian Express reported. Delhi police have sent a team to Bihar to get hold of Pradip.
Manoj, 25, who had brutally raped and mutilated the girl, was arrested from Chiknauta village in Muzaffarpur district of Bihar. Delhi police finally nabbed him after tracking down his location through his mobile number.
Muzaffarpur Senior Superintendent of Police Saurav Kumar said that it was very easy to trace him since he had kept his mobile phone on.
Manoj abducted the girl on 15 April, raped her, mutilated her genitals and then locked her in an apartment. On the same night, he letf by train for his native village in Bihar.
"The accused took the girl to his room on April 15. That same night, he boarded the Swatantrata Sainani Express at 8.30 pm. He reached his village in Muzaffarpur the next day. On April 17, he went to the house of his in- laws," Deputy Commissioner of Police (East) Prabhakar said, according to Indian Express.
Police said that the initial probe and MLC (Medico Legal Certificate) report suggested that the accused tried to strangle her. Assuming that she was dead, he left for his native.
The minor was reported missing on 15 April and was found three days later in the neighbour's apartment on the ground floor of a residential building in Gandhi Nagar area.
The minor is currently being treated at All India Institute of Medical Sciences (AIIMS). Doctors have said that she was subjected to gruesome injuries. Doctors at the Swami Dayanand hospital, where she was first admitted, said they found a small bottle of hair oil and two-three pieces of candles in her private parts.
Doctors at AIIMS have said that the girl's condition is stable and that she is recovering.