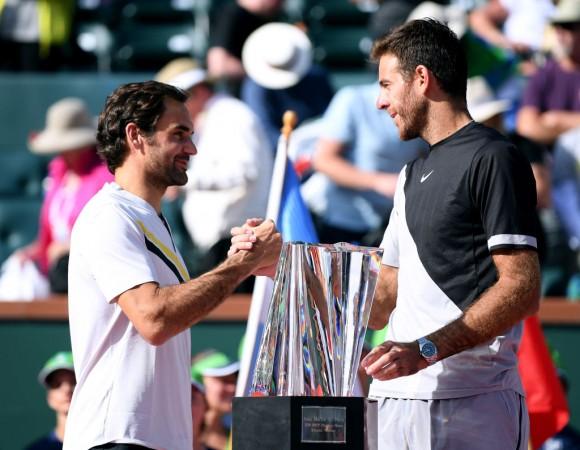 Juan Martin del Potro has been on a winning spree ever since he finished on the top step of the podium in Acapulco earlier this year. The world no. 6 has stitched a 14-match unbeaten run but says he is particular about not being carried away by the flying start he has had in the new season.
The Argentine star, who broke into the top-10 for the first time since 2014 in January, expressed his desire to keep up with top-ranked Roger Federer and Rafael Nadal but insisted his "main goal" would be to stay injury-free.
Del Potro has reached the quarter-final of the ongoing Masters 1000 tournament in Miami and is favorite to win the title following the shocking second-round exit of Federer. The power-hitter had edged past the 20-time Grand Slam champion 6-4, 6-7 (8), 7-6 (2) in a marathon Indian Wells Masters final that extended to two hours and 42 minutes earlier this month.
His dominance in the new season has been such that he has eased past top-10 players of the likes of Kevin Anderson, Alexander Zverev, and Dominic Thiem and has already won two titles on the tour.
Having clinched 1,760 points in 2018, del Potro is second on ATP "Race to London" rankings. He is currently 1340 points behind top-ranked Federer.
"I am excited to keep winning. I am trying to win another one. I am enjoying with my fans here," del Potro told ATP World Tour during a candid chat with Jamie Murray.
He added: "I don't know. I would love to stay closer to Roger and Rafa and these guys.
"But my main goal, the most important thing to me is to stay fit during the whole season. And then I will see what I can do."
Del Potro 'best player in the world': Raonic
Del Potro had to overcome quite a lot of career-threatening injuries over the years. The 29-year-old had revealed he had pondered quitting the sport after he was forced to undergo a third surgery on his troublesome wrist in 2015.
He reached as high as the fourth spot on ATP rankings in 2009, the year in which he defeated Roger Federer in the final of US Open. The lanky Argentine was primed for more glory but a wrist-injury forced him out of the sport for nine months in 2010.
Del Potro made a strong comeback and returned to top-five by 2013 but recurrence of the wrist injury demanded two more surgeries. He had played only 22 matches between 2014 and 2016 and was ranked 1045 before he launched his recent comeback bid.
Meanwhile, world number 25 Milos Raonic, who will take on del Porto in Thursday's Miami Masters quarter-final, heaped praise on the in-form Argentine, labeling him "the best player in the world" over the last four to five weeks.
Notably, Raonic had lost to del Potro in straight sets in the semi-final of Indian Wells Masters earlier this month.
"He [del Potro] has been the best player in the world for the last four or five weeks winning Acapulco and winning last week as well. He is playing well this week so it is going to be a difficult match," Raonic was quoted as saying by Daily Express.