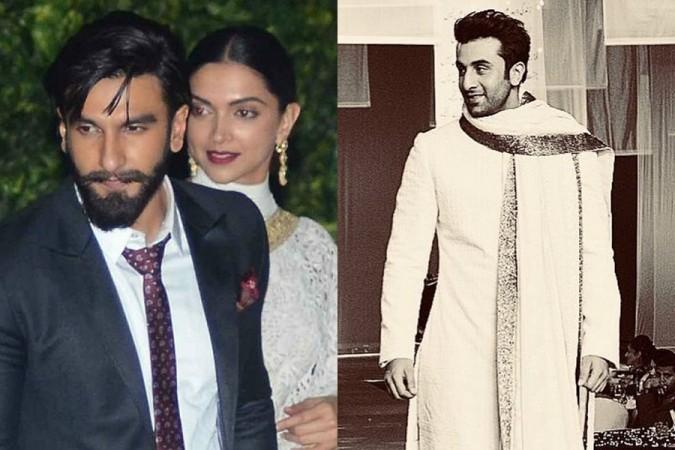 Rumours of Deepika Padukone and Ranveer Singh's wedding have been making headlines, but the actress has still not confirmed their relationship, and the reason seems to do with her ex Ranbir Kapoor.
It has been reported that Deepika was extremely serious about Ranbir, and she whole-heartedly wanted to marry him. But their breakup had such an impact on the Padmavat actress that she has become commitment-phobic.
According to The Asian Age, Deepika was even willing to sacrifice her career if need be in order to lead a life with Ranbir.
"She was looking at a life ahead with Ranbir. She wanted marriage and babies. He seemed to be all for it. She was ready to give up her career to be Mrs Ranbir Kapoor. Then he got bored and distracted. He moved on to Katrina Kaif. He got bored and distracted in that relationship too. But that's a different story," the publication quoted a source as saying.
Breakup with Ranbir apparently has been affecting the actress' relationship with current beau Ranveer, as she is afraid of facing the same pain of a split again, according to the report
"Though Ranveer is completely committed in the relationship and wholeheartedly devoted to her, Deepika is now commitment-phobic. She fears her heart may be broken again. And this time she won't be able to take it," another source told the publication.
The fact that Deepika had got Ranbir's initials inked on her neck suggests how serious she was about the relationship. She had even gone into depression after the split.
In an earlier interview also, Deepika had expressed her fear in getting into a committed relationship after her breakup with the Ranbir.
"For whatever reasons, it didn't work out. And since then I won't say cautious but I think I'm very, very scared to invest emotionally in a relationship, because I don't know how to just casually date, I don't know how to be in this in-between dating but not committing. I don't know that space. I want to be very sure before I'm ready to commit," she had told a daily.
Meanwhile, there have been rumours that the leggy lass is set to tie the knot with Ranveer in November this year. On the other side, Ranbir is rumoured to be dating actress Alia Bhatt.