Love is definitely in the air for Bollywood couples like Ranbir Kapoor and Alia Bhatt and Deepika Padukone and Ranveer Singh. A few days ago, Ranbir admitted dating Alia and has been openly sharing some secrets about their love life. And it looks like, after Ranbir's honest confession, the love bug has now bitten his ex-girlfriend Deepika Padukone who has now openly expressed her love and affection to her boyfriend Ranveer Singh on Instagram.
Ranveer Singh posted a selfie on Instagram a couple of days ago in which he was seen flaunting his chiselled body and six pack abs keeping his shirt undone by the sea. Deepika made every girl feel jealous when she wrote "mine" with three heart-struck emojis in the comment section.
Soon girls started commenting "wish I could say the same" and contesting with Deepika over Ranveer by saying, "no Deepika he is mine." Many fans said that this was Deepika's most-awaited comment and felt good that the couple are not hiding their relationship anymore.
To add some spice to the drama, comedian Mallika Dua left a hilarious comment "Look at your jeeju number 12" while tagging her sister.
Take a look.

Earlier, Ranveer Singh too was seen showing off his affection to his ladylove Deepika Padukone when she walked the red carpet at the 71st Cannes Film Festival.
In case you missed it, take a look.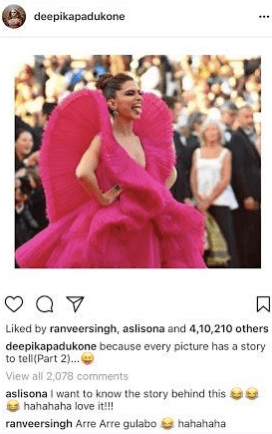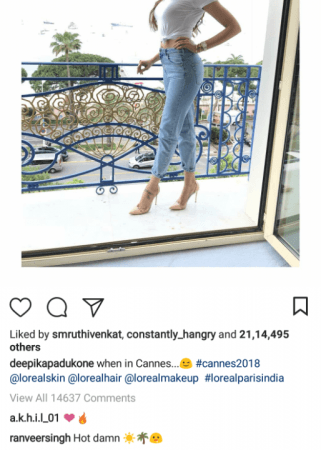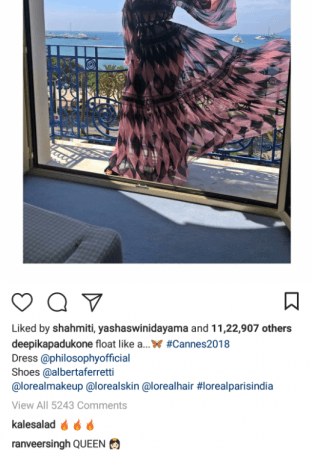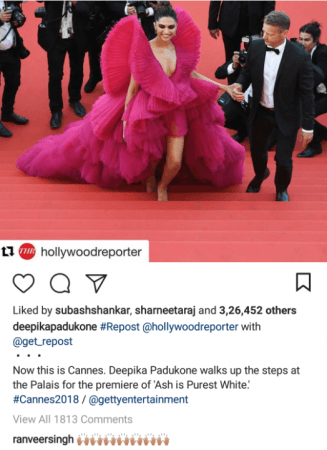 There are strong rumours that Deepika and Ranveer will tie the knot at the end of this year. And going by their PDA, it looks like the rumours will soon turn out to be true.
Meanwhile, Ranbir Kapoor and Alia Bhatt's relationship is blossoming with each passing day. While Alia is showing off her love to her boyfriend through social media, Ranbir has been spilling beans about his love life during media interactions.
"I think every human being does extraordinary things only when they are in love. So I believe that love is something which is a privilege if it comes in your life and to be in a happy, beautiful positive place in a relationship with, it could be with a girl, a guy, with a friend, your mother, your father, or anybody but when there is some genuine love, it's really beautiful," Ranbir Kapoor said in a recent chat with Rajeev Masand.
He further added, "It's only positive and more so because we are working on a film together, and I really admire her as an actor. To see her have so much of colour, so much of spontaneity, so much hard work, so much of discipline is quite rare. It's amazing. It's been 10 years for me in this industry, little lethargy, a little chalta hai type attitude comes in. So it's rejuvenating for me as an actor to be with Alia."
It seems like things are getting quite heated up between these two Bollywood couples now.