West Bengal is witnessing trouble in both its northern and southern parts of late and although the violence which has rocked both the corners of the state in the recent times has different origins, there is a stark similarity in the occurrence of violence in the state over the last few months.
And it is the pattern of setting police vehicles on fire in each of these instances.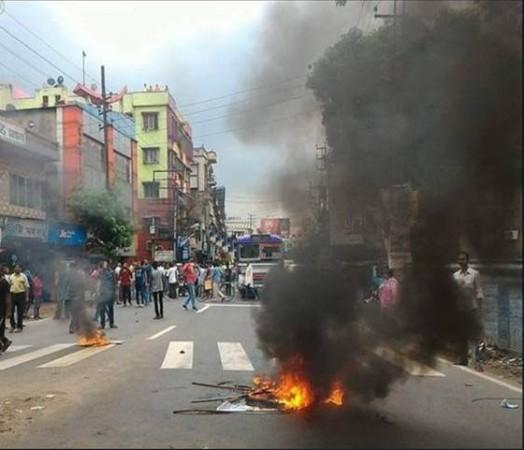 According to a report published in Bengali daily Anandabazaar Patrika, the state's police department is suspecting that there is a definite purpose in which its vehicles are getting attacked during clashes and violence and there is a demand to probe it. The state secretariat is also not denying the possibility of a planned attack on police cars at the spot of clashes, the report added.
It is being suspected that the police vehicles are being targeted to fulfil two aims. First, to ensure that the police force gets immobile because of the absence of a vehicle as it is set on fire and secondly, by vandalising and burning down their vehicles and attacking and cornering them, the police personnel can be left demoralised.
The Khakee plot?

This plot as a striking similarity with the tale in 2004 Bollywood film Khakee. The film, starring Amitabh Bachchan, Akshay Kumar, Ajay Devgn and others, had showed how a police team guarding a terror accused was made immobile by means of destroying their vehicles.
The ABP report has said the police forces are facing problem after they are reaching remote areas to probe. The vehicle waiting for them on the outskirts is being burnt, leaving them in the lurch.
The report has also added that 35 police vehicles have been set on fire in both Darjeeling Hills and the plains in the last one month while more than 50 have been vandalised. This has severely crippled the forces' mobility in tense zones, affecting the administrative functioning. In Bhangar in southern Bengal where clashes had broken out a few months ago over installation of a new power project, there too a number of police vehicles were damaged and drowned in local water bodies, causing severe inconvenience for the forces.
Meanwhile, West Bengal Chief Minister Mamata Banerjee has ordered for deployment of new vehicles for the forces and also arranging adequate mode of transportation for them to reach the affected areas fast.