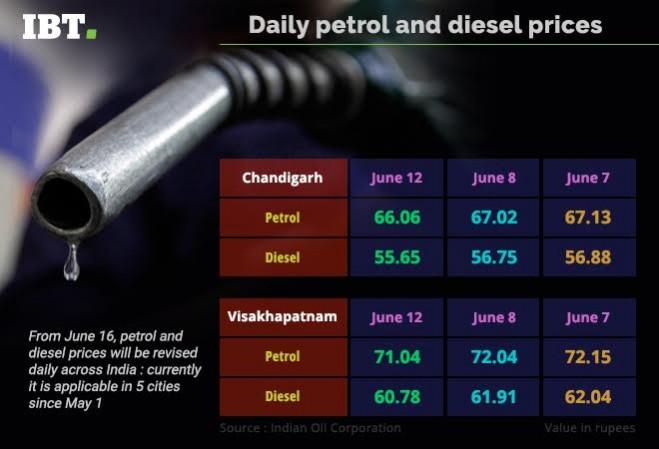 June 16 will mark a significant step in the deregulation of petroleum prices, when oil market companies revise prices of diesel and petrol on a daily basis across India. The scheme is currently on as a pilot project in five cities, including Chandigarh and Visakhapatnam, since May 1.
India's first bold moves in petroleum pricing began in June 2010 when petrol prices were de-regulated, followed by a similar, market-driven pricing for diesel from October 2014.
The latest move has triggered a negative response from dealers, with the Federation of All India Petroleum Traders threatening to observe 'no purchase no sale' on June 16 to protest against the daily revision of fuel prices. The main grouse is that only around 40,000 outlets are automated and therefore, the mechanism won't be feasible at this stage.
Currently, both diesel and petrol are sold through a network of 59,595 retail outlets (as of April 1, 2017), of which 92 percent are owned by state-run companies — Indian Oil Corporation (IOC), Bharat Petroleum Corporation Ltd. (BPCL) and Hindustan Petroleum Corporation Ltd. (HPCL).
Should consumers be worried?
Not really, as can be seen from the graph above.
The fluctuation over a six-day period between June 7 (Rs 67.13) and 12 (Rs 66.02) proves that the fluctuation is negligible and actually beneficial. With crude oil prices in the global market either remaining stable or falling, fears of upward revision hitting consumers are unfounded.
Brent crude oil prices dropped to $48 per barrel last Wednesday from $50 a month ago and $54 three months ago, according to an update by Nirmal Bang Institutional Equities. Given that prices have been trending lower despite major oil-producing countries (both OPEC and non-OPEC) restricting output, petrol and diesel prices are likely to remain stable in India in the near future.
Government holds the key, indirectly
The de-regulation of petrol and diesel prices is partly controlled by Central and state governments by way of levies. As can be seen from the calculation below, 54 percent of petrol price consists of central and state taxes (Rs 22.03 + Rs 13.89). The upside of such a situation is that should crude oil prices flare up in the international market, the governments can always provide a cushion by reducing taxes to minimise the impact on the end consumer.
Since petroleum products have been kept out of the purview of the goods and services tax for the time being, there are no extraneous factors that could impact fuel prices significantly.