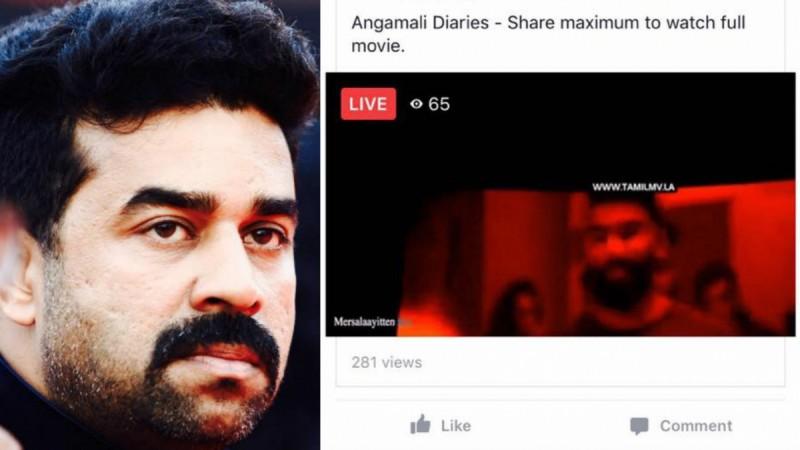 Despite starring 86 newcomers, Angamaly Diaries, the latest Malayalam movie, is witnessing a good run at the worldwide box office for its fresh storyline and performances. However, Lijo Jose Pellissery's directorial venture has now become the latest victim of cyber piracy with a few people either uploading or live streaming the entire movie on social media.
Check Interview: Shameer Muhammed
Actor-turned-producer Vijay Babu, who has bankrolled the realistic movie, reacted against the illegal activity via his Facebook page on Friday, March 17. Vijay has also revealed that they had already removed almost 10 links that provided the full movie online. Calling it a planned activity by someone against Angamaly Diaries, the producer has also warned that they will not spare anyone doing it.
Vijay has also shared the screenshot of Cine Pix Media's post that live streamed Angamaly Diaries on their Facebook page on Friday.
It's unfortunate that a planned activity is going on against our movie angamaly diaries to kill it . We removed at least 10 online links yesterday and the same people are doing it again to ensure the movie comes on internet. Let me warn this criminal ASS----S that we will not spare anyone who try to upload this movie on internet. This ba---rd was steaming the movie live on Fb from a theatre today . We ensured that it is removed . I promise that we will track you today and do the needful #savemalayalamfilms
Piracy has become a major crisis faced by most of the filmmakers these days. Earlier, Nivin Pauly's blockbuster romantic entertainer Premam's censor copy was leaked online, followed by Dulquer Salmaan's hit movies Kammatipaadam and Kali, which were also leaked after the theatre print of the movies were posted on the Facebook page of Balcony Pictures Entertainment. Recently, pirated copies of Mohanlal's action thriller Pulimurugan also surfaced on four Tamil websites.
-