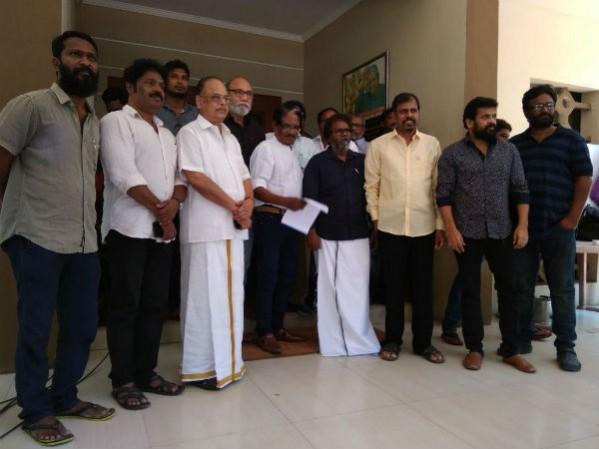 A day after the Nadigar Sangam's protest demanding that the Central government form a Cauvery Management Board and extended support to the ongoing Sterlite agitation, a few Tamil filmmakers raised their voice against the Indian Premier League (IPL) matches to be held in Chennai.
Filmmakers Bharathiraaja, Ameer, RK Selvamani, Vetrimaaran and a few others along with actor Sathyaraj attended a press meet and gave a call to the people to boycott the upcoming IPL matches to be played in Chennai.
Speaking at the occasion, Bharathiraaja requested all the political parties to set their identities and differences aside to raise their voice in unison to exert pressure on the Center to form the Cauvery Management Board and to give a fillip to the ongoing protest against Sterlite's upcoming plant in Thoothukudi.
Sathyaraj said the IPL matches would divert people's attention from the issues bothering the masses. "I don't have any political ambition, but I will continue to raise my voice for the rights of our people. Youngsters united for the Jallikattu movement and for NEET. Now, they have to unite for the farmers of the state. The movement is now gaining momentum and an event like IPL will be a distraction," he said.
On his part, director RK Selvamani said the world would take notice of the protests upon looking at the empty stands. He slammed the national parties for failing to respond to the local issues. "If Tamil Nadu will get Cauvery water only if the state governments are of the same party, then why do we need a Central government?" NewsX quotes him as saying.
The Nadigar Sangam highlighted the issue Sunday through a silent protest that was graced by Rajinikanth, Kamal Haasan, Vijay and many others.
After a ban of two years, Chennai Super Kings returned to IPL with a thumping victory against the Mumbai Indians on Saturday, April 7.
The first match at the Chennai's MA Chidambaram Stadium will be held April 10 between Chennai Super Kings and Kolkata Knight Riders.