Congress Rajya Sabha MP Vivek K Tankha has written to President Ram Nath Kovind seeking imposition of President's rule in the state recently acquired by the BJP after Jyotiraditya Scindia's revolt. The Congress MP said that the Article 163 of the Constitution mandates "There shall be a Council of Ministers with the Chief Minister as the head to aid and advise the Governor in the exercise of his functions."
Tankha said that Madhya Pradesh is in the grip of coronavirus pandemic yet there is not Health Minister in the state and a one-man government without a Cabinet would be an unthinkable constitutional anathema.
"Madhya Pradesh is in the grip of Covid19. The situation in Indore is grave with the highest percentage of recorded deaths. Indore has been declared a corona hotspot. Bhopal suffers the agony of the administrative collapse of Health department with 45 plus IAS & other officials posted in the secretariat/offices having tested positive," Tankha wrote.
The Congress leader said that if Chief Minister Shivraj Singh Chouhan, who was sworn amidst lockdown in Bhopal on March 23, fails to form a Council of Ministers, constitutional machinery in the state will start to breakdown.
"...if the Chief Minister is unable to form his Cabinet because of issues beyond his control, then a case of breakdown of constitutional machinery will be self-evident in the state of Madhya Pradesh, warranting the Union to consider the imposition of President's Rule in the state," he wrote in the letter.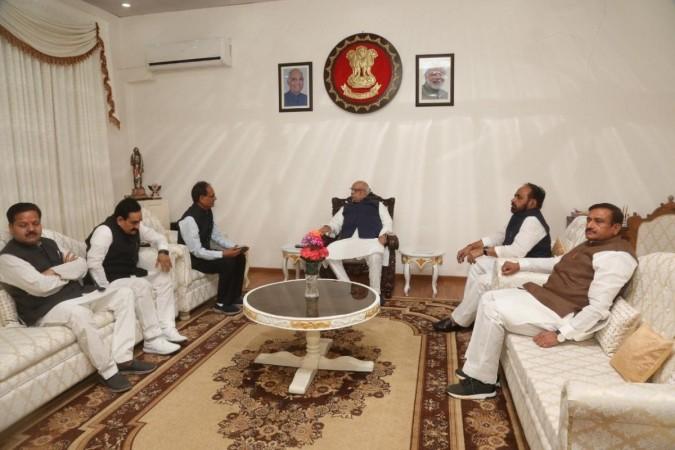 MP Governor silent on "constitutional outrage"
He also took a dig at the Madhya Pradesh Governor Lalji Tandon and accused him of "maintaining an enigmatic silence" against what he called was a situation of "constitutional outrage" in the state.
"The Governor of Madhya Pradesh, who on a daily basis was sending DOs to Ex CM to hold a floor test between March 13 to 16, disregarding the captivity of Cong MLAs in Bengaluru; is maintaining an enigmatic silence despite this constitutional outrage. Madhya Pradesh deserves to be governed by a cabinet," he said.
Shivraj Singh Chouhan had wrested power from Kamla Nath and sworn in as the Chief Minister of the state on March 23, a day after the Janata Curfew. He took oath without a cabinet and on March 24, Prime Minister Narendra Modi announced a nation-wide lockdown and the formation of Cabinet was delayed. Now Madhya Pradesh is fighting the coronavirus pandemic, which has killed more than one lakh people globally, without a dedicated health minister.
Below is the full text of Congress Rajya Sabha MP Vivek K Tankha's letter to the President
Date 11th April. 2020
New Delhi

To,
SHRI RAM NATH KOVIND
His Excellency The Hon'ble President Of India
Rashtrapati Bhawan
Raisina Hills
New Delhi-110001

Subject:- Unconstitutional Governance of Madhya Pradesh dehors a Cabinet during pandemic when the state is suffering constant deaths daily

Your Excellency,

With utmost regret whilst India and the world is battling COVID-19 I feel compelled to write against the illegally designed & poorly conceived one-man show unconstitutionally thrust upon 7.5 crore people of Madhya Pradesh. This shenanigan gravely impacts and imperils the war against coronavirus.

A Chief Minister is sworn amidst lockdown in Bhopal on March 23 - without a Cabinet. Article 163 of the Constitution mandates "There shall be a Council of Ministers with the Chief Minister as the head to aid and advise the Governor in the exercise of his functions......"

True, a CM can be sworn in singly. It is the first step towards the formation of an accountable Cabinet. An outer limit of 15% which includes the CM is the constitutional full stop on number of induction in the council of ministers. It's this cabinet on whose aid or advise the function of the government is carried out in the name of the Governor.

A Government of a sole CM i.e one-man government without a Cabinet is an unthinkable constitutional anathema. The souls of great Dr Ambedkar - whose jayanti falls on April 14 - and our founding fathers would be in tears in the perpetuation of this constitutional travesty.

In addition Madhya Pradesh is in the grip of Covid19. The situation in Indore is grave with the highest percentage of recorded deaths. Indore has been declared a corona hotspot. Bhopal suffers the agony of administrative collapse of Health department with 45 plus IAS & other officials posted in the secretariat/offices having tested positive. Other towns though ostensibly safe but with negligible testing to boast. The bureaucratic / police response of the State to the Pandemic is pathetic. Now action under ESMA against doctors, health workers and others has been announced by CM on the advice of bureaucrats - whilst the country including the whole opposition is united as one in the fight against the pandemic on the call of the Prime Minister.

The patience of 7.5 crore people is wearing thin. In today's situation Madhya Pradesh doesn't have the benefit of an accountable Cabinet much less a Health Minister. Constitutional / cabinet accountability is a matter of faith and public trust. CM's bravado is understandable but not in the public interest - just as the Principal Secretary Health's insistence to continue working and issue health bulletins after being detected as corona positive.

Before the situation deteriorates, further the Governor of Madhya Pradesh, who on a daily basis was sending DOs to Ex CM to hold a floor test between March 13 to 16, disregarding the captivity of Cong MLAs in Bengaluru ; is maintaining an enigmatic silence despite this constitutional outrage. Madhya Pradesh deserves to be governed by a cabinet. This is what the Constitution mandates. Madhya Pradesh cannot be deprived of this constitutional privilege and specially so in this extreme crisis situation.

Alternatively, if the Chief Minister is unable to form his Cabinet because of issues beyond his control, then a case of breakdown of constitutional machinery will be self-evident in the state of Madhya Pradesh, warranting the Union to consider the imposition of President's Rule in the state.

This is a humble appeal by a voter, a citizen of Madhya Pradesh, a responsible lawyer and a Member of Parliament Rajya Sabha to the highest constitutional authority and the ultimate protector of citizens rights i.e. President of India to safeguard the rights, privileges and lives of 7.5 crore people of Madhya Pradesh

Respectfully yours

(Vivek K. Tankha)
Sr. Advocate -Supreme Court
MP- Rajya Sabha
Former Addl Solicitor General Of India
Former Advocate General of M.P.

CC:
(1). Hon'ble Governor of Madhya Pradesh
Raj Bhawan Roshanpura Road,
Roshan Pura Square, Malviya Nagar,
Bhopal, Madhya Pradesh 462003

(2) Hon'ble Prime Minister of India
7, Lok Kalyan Marg,
New Delhi - 110 011

(3) Hon'ble Union Home Minister
Ministry of Home Affairs
North Block
New Delhi - 110001 India