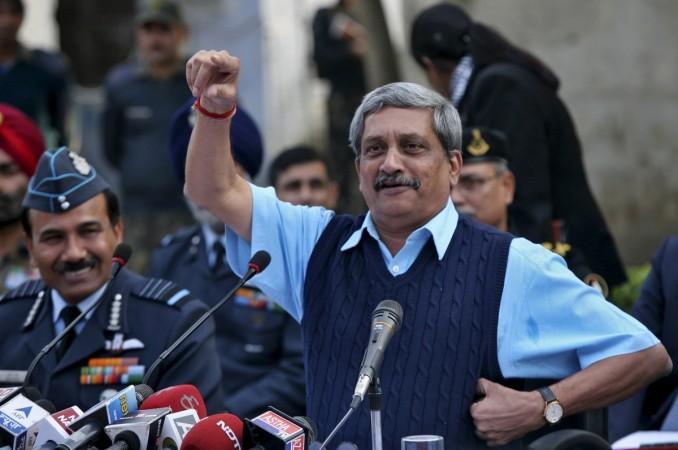 The Congress party on Monday lashed out at Defence Minister Manohar Parrikar and called him a "national embarrassment" for giving credit to the Rashtriya Swayamsevak Sangh (RSS) for the surgical strikes carried out by the Indian Army on seven terror launch pads across the Line of Control (LoC) killing two Pakistani soldiers and 38 terrorists.
"Why is the Defence Minister always so over the top? Today, he has gone and credited the RSS for operations along the LoC... What is wrong with this gentleman? And this is not the first time this has happened. Earlier, he said that 'like Hanuman' the army did not know their prowess until I pointed out to them their strength and capacity. Then they blame others for politicising the operations along the LoC," Congress' national spokesperson Manish Tewari told the media. He added that Parrikar "doesn't deserve to be the defence minister."
Parrikar, while addressing students and teachers of Nirma University during a 'Know Your Army' programme, had said, "I wonder that a Prime Minister from land of Mahatma Gandhi and a defence minister from Goa and surgical strikes, the situation was quite... maybe the RSS teachings was there, but this was very different kind of combination."
The defence minister also criticised politicians for demanding proof of the strikes and said: "Some people have been seeking proof (of surgical strikes)... Some people will never get convinced even if solid proof is given... When Indian Army does something we should remember that this is one of the world's best, professional, brave and an army with high integrity."
He added that it was his army and he did not need any proof "when they say something." Parrikar further added that he saw all Indians showing solidarity with the soldiers except for a few politicians.
Meanwhile, Tewari said that the Congress does not "intend to waste our time" by demanding Parrikar's resignation. He added that Parrikar does not deserve to be the defence minister of the country and that he was a "national embarrassment".
"No one in the Congress has ever asked for evidence with regard to the surgical strikes. In fact, surgical strike is a wrong terminology -- the terminology used by the DGMO is 'Operations along the LoC'... If the army institutionally stands up and makes a statement, we believe that statement, as we believe the statement which has been made by former Chief of Army General Bikram Singh that such operations were carried out in the past," Tewari added when asked if the Congress party wanted proof of the strikes like one of their senior leaders P. Chidambaram had demanded.