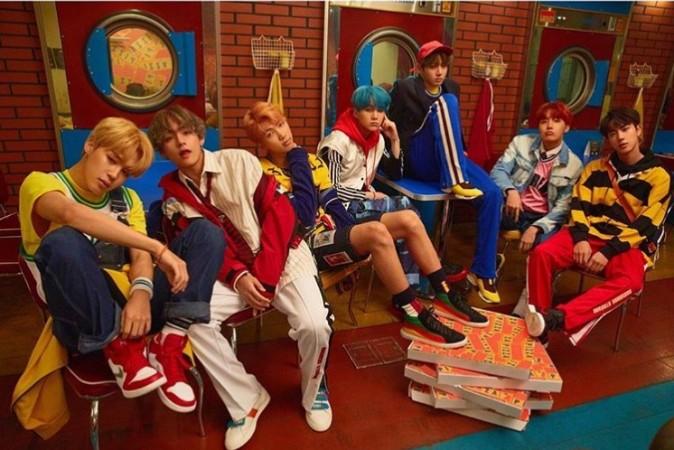 Coca-Cola has announced on Monday that it will feature K-pop sensation BTS on its summer special-edition cans by the end of the month. According to local media, the cans featuring Bangtan Boys will be available in convenience stores and supermarkets in South Korea.
"With the hope for consumers to have a special summer with Coca-Cola, we are to release packaging of BTS members on cans," said the Korean branch of the brand. However, Coco-Cola has not revealed any details on whether the cans will be available in markets outside Korea or not.
Naver, the Korean web portal reported that the company will release a total of seven cans as a part of its new edition. The cans feature each member of the boy band posing in a colour that is most associated to their personality with a beverage in his hand. The colour codes are: green for J-Hope, red for Jungkook, mint for Suga, blue for Jin, pink for RM, orange for Jimin and purple for V.
The K-pop band was selected as the global ambassador of Coca-Cola at the beginning of the World Cup 2018 campaign.
It seems that this year is quite lucky for BTS, who was recently certified as a million-seller in Korea. The latest album titled Love Yourself: Tear was the first K-pop album to top the Billboard Hot 200 chart.
On July 11, the Incheon International Airport in South Korea announced that they will employ BTS-designed BT21 characters at the airport. This latest initiative to feature the collection, which was jointly produced by BTS and Line, was taken to promote the airport and provide "entertaining and interactive facilities and services" to the customers.
ALSO READ: Jada Pinkett Smith goes candid: 'Everything could be fixed by sex'
ALSO READ: Sacred Games leaked online: Here's how you can avoid piracy, watch it on Netflix for free