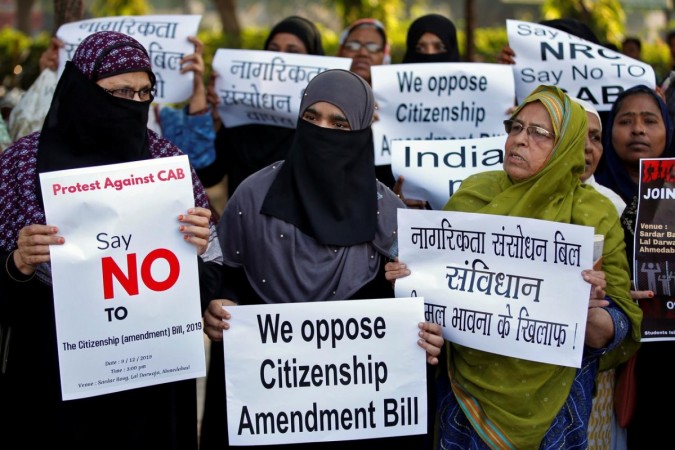 The contentious Citizenship (Amendment) Bill, 2019, which was passed in Lok Sabha on Monday midnight amid fierce opposition, is set to be tabled in the Rajya Sabha on Wednesday, December 11 at around 1 pm.
The bill was passed in Lok Sabha with 311 votes in support and 80 against it. The Bharatiya Janata Party seems confident of it getting clearance in the upper house as well. On the other hand, Congress has issued a three-line whip to its Rajya Sabha members to be present in the upper house when the bill is introduced.
Congress has also planned to stage a nationwide protest against the bill. "I request you to undertake dharna pradarshan (protest) tomorrow (Wednesday) against the Bill in state headquarters by involving the senior leaders and frontal organisations," read a letter by Congress General Secretary (Organisation) KC Venugopal.
While major opposition parties have described the bill as "anti-Muslim", Union Home Minister Amit Shah said that Indian Muslims have no reason to fear as it will not affect the Muslim community residing in the country. The bill had also triggered massive uproar in the Northeastern states.
Hundreds of protestors had taken to the road on Monday, to demonstrate against the controversial Bill. In Assam - one of the states that had previously opposed the bill – protestors blocked roads, burnt tyres and painted walls with slogans against the new proposal. Follow the LIVE blog of ibtimes.co.in for latest updates on CAB.
Live Updates
2019-12-1116:35 (IST)
WATCH | Protests continue against Citizenship Bill in Guwahati
2019-12-1116:06 (IST)
TMC's Derek O'Brien compares Nazi Germany with Citizenship Bill
Trinamool Congress MP Derek O'Brien draws similarities between Nazi Germany and the persecution of Jews and Assam NRC and persecution of Bangladeshis and Muslims. "84 years ago, Nazi Germany passed a law and today what we are doing in the House has an eerie similarity. Beware of the signs of dictatorship," said Derek O'Brien.
The TMC MP also said, "Don't try to teach us what being a Bengali means. We are seeing all these people today trying to teach us what being a true Bengali means and what patriotism means. Don't try to teach us nationalism and patriotism. Look at the records of British prisons to see how patriotic Bengalis are. Who are you to teach us?"
2019-12-1115:42 (IST)
Following what Manmohan Singh said: Nadda on Citizenship Bill
BJP working president JP Nadda said, "In 2003, Dr Manmohan Singh in Rajya Sabha said to then Deputy PM Advani ji on treatment of refugees and persecution of minorities in countries like Bangladesh, he said we should have more liberal approach in granting citizenship to them. So,we are following what he said."
2019-12-1115:13 (IST)
People stage protest against Citizenship Bill
Tripura: People stage protest against Citizenship Amendment Bill2019 in Agartala.
2019-12-1114:56 (IST)
Entire Northeast given protection under Citizenship Bill: Kiren Rijiju
Union minister Kiren Rijiju said, "Entire Northeast has complete protection under Citizenship Bill; we do not want region to fall into trap of some mis-campaigning. Protests are going on in Northeast, there are concerns, but those have been addressed by the government."
2019-12-1114:33 (IST)
WATCH | Assam on the edge, students break barricades, teargas lobbed
2019-12-1114:27 (IST)
Centre to send Personal Data Protection Bill to joint select committee
Union Minister and BJP leader Ravi Shankar Prasad said the government has proposed to send the Personal Data Protection Bill to joint select committee of both Lok Sabha and Rajya Sabha.
2019-12-1112:44 (IST)
Citizenship Bill: Who all can applly?
Hindu
Sikh
Jain
Parsi
Christian
Buddhist
2019-12-1112:36 (IST)
Congress attacks Citizenship Bill in Rajya Sabha
Attacking the Citizenship Bill, Congress stated that the Bill is against the foundation of Indian values. The opposition wants the Bill to be sent to a parliamentary panel.
2019-12-1112:22 (IST)
Amit Shah pitches for Citizenship Bill
CAB part of BJP's manifesto
India voted for CAB in 2019 LS polls
Indian Muslims shouldn't be worried
CAB a hope for persecuted minorities
2019-12-1112:15 (IST)
It's a Bill for refugees: Amit Shah
Introducing the Citizenship Bill in Rajya Sabha, Amit Shah said, "BJP has public support over this Bill." Though this Bill violates Article 14 of the Constitution, Shah states that CAB is inclusive and will give rights to refugees.
2019-12-1112:07 (IST)
Citizenship Bill tabled in Rajya Sabha
Union Home Minister Amit Shah tables Citizenship Amendment Bill in Rajya Sabha. Shah said that the Bill will benefit millions of persecuted refugees. "This Bill will bring relief to lakhs of people," said Amit Shah.
2019-12-1111:25 (IST)
Assam protest against CAB
Protests against the Citizenship (Amendment) Bill are being held in Assam's Guwahati.
2019-12-1111:21 (IST)
Opposition party speaking the language of Pakistan?
According to ANI, Prime Minister Modi in BJP Parliamentary party meeting said that some Opposition parties are speaking the same language as Pakistan on the Citizenship (Amendment) Bill.
2019-12-1111:19 (IST)
Shiv Sena's can oppose the bill in upper house
"We have to clear our doubts on this bill, if we don't get satisfactory answers then our stand could be different from what we took in Lok Sabha," said Sena leader Sanjay Raut.
The BJP is confident of getting the bill passed in the Rajya Sabha with the support of 130 house members. While the current strength of the house is 240, the National Democratic Alliance (NDA) – including parties like AIADMK, Janata Dal-United and the Akali Dal – has 116 members.
Support from 14 others is expected to come from three members of the Shiv Sena, seven members of Odisha Chief Minister Naveen Patnaik's BJD, two of Andhra Pradesh Chief Minister Jagan Mohan Reddy's YSRCP and two of Chandrababu Naidu's TDP.
2019-12-1111:11 (IST)
Rahul Gandhi on CAB
Rahul Gandhi took to Twitter to say that the CAB is a measure by the government for "ethnic cleansing". "The CAB is an attempt by Modi-Shah Govt to ethnically cleanse the North East. It is a criminal attack on the North East, their way of life and the idea of India. I stand in solidarity with the people of the North East and am at their service," he wrote.
2019-12-1111:04 (IST)
Highlights of the Citizenship (Amendment) Bill
Granting nationality to non-Muslim immigrants from neighbouring countries.
The Citizenship Act, 1955, one of the requirements for citizenship was that the applicant must have resided in India in the last 12 months, as well as for 11 of the previous 14 years.
Now the amendment relaxes the second requirement — from 11 years to six years.
Provides that the registration of Overseas Citizen of India (OCI) cardholders may be cancelled if they violate any law.
2019-12-1111:04 (IST)
What does the bill say?
The bill that seeks to provide Indian nationality to Hindus, Christians, Sikhs, Parsis, Jains and Buddhists fleeing persecution from Pakistan, Afghanistan and Bangladesh.
The Citizenship (Amendment) Bill seeks to amend the Citizenship Act, 1955 to make Hindu, Sikh, Buddhist, Jain, Parsi, and Christian illegal migrants from Afghanistan, Bangladesh, and Pakistan, eligible for citizenship of India.
2019-12-1111:03 (IST)
How did we reach here?