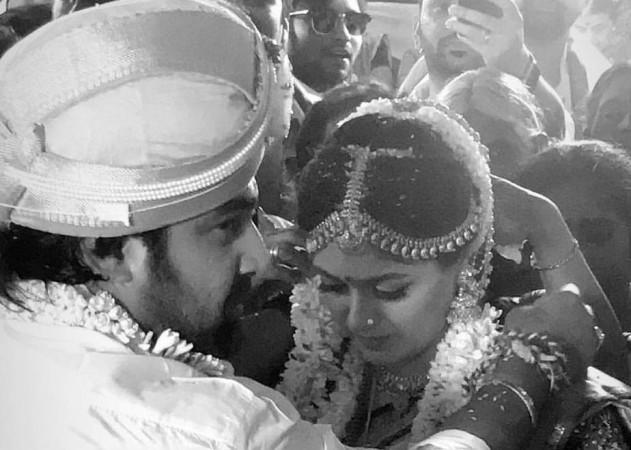 The couple tied the knot as per Christian wedding on Sunday.
The Hindu wedding graced by who's who of Sandalwood.
They had their engagement last year.
After the church wedding on Sunday, April 30, Chiranjeevi Sarja and Meghana Raj have commemorated their marriage as per the Hindu customs on May 2 at White Petals in Palace Grounds. The couple tied the knot in the presence of their family, friends, and relatives in the grand event.
The elaborate wedding ceremony was started with 'haldi' ceremony on April 26. It was followed by a church wedding at St Anthony's Church in Koramangala as Meghana Raj's mother is a Catholic Christian.
They had their 'mehendi' and 'vara pooja' in the following days. The Hindu wedding has been graced by who's who of Sandalwood. The invitation has been extended from the Raj family to Ambareesh. Puneeth Rajkumar, Yash, Upendra, Sudeep, and Darshan are among the stars.
[Here is the Wedding video]
The curtains for the grand wedding will be dropped with the reception on the evening of May 2.
"We have been friends for so long. And we have just got married. The feeling is very surreal," Meghana Raj said after the white wedding. Chiranjeevi Sarja intervened and said, "It is yet to sink in." The groom further added that they want to be a role-model couple.
Meghana Raj and Chiranjeevi Sarja have known each other for over 10 years, but they fell in love some five years ago. Actor and uncle of Chiru, Arjun Sarja had a major role in bringing the two families together.
Chiranjeevi Sarja belongs to the third generation of actor Shakthi Prasad's family. Whereas Meghana Raj is the daughter of well-known actors Sundar Raj and Pramila Joshai.
Meghana Raj started her acting career in Telugu with Bendu Apparao RMP. Since then, she has been part of over 35 movies in Tamil, Malayalam and Kannada movies. Whereas her beau started his career with Vayuputra in 2009 and worked in over 15 movies as a hero.
Their engagement was held last October where Chiranjeevi Sarja presented a diamond ring to Meghana Raj. It was a simple event which was attended by a limited number of guests.
The couple had organized a grand party for their colleagues and friends the same evening. Prajwal Devaraj, Jaggesh, Bharathi Vishnuvardhan, Sumalatha Ambareesh and many others were spotted at the event.
Wishing @meghanasraj & @chirusarja a very happy married life..love & blessings pic.twitter.com/J2H8SNWelR

— sumalatha ambareesh (@sumalathaA) May 1, 2018
ಚಿರಂಜೀವಿ ಸರ್ಜಾ ಮತ್ತು ಮೇಘನಾ ರಾಜ್ ಮದುವೆಯ ಅರಿಶಿಣ ಶಾಸ್ತ್ರದ ಸಂಭ್ರಮ. #MeghanaChiru #WeddingRituals #Cineloka @meghanasraj @chirusarja pic.twitter.com/Z0vsX3iskd — cineloka.co.in (@cineloka) April 28, 2018