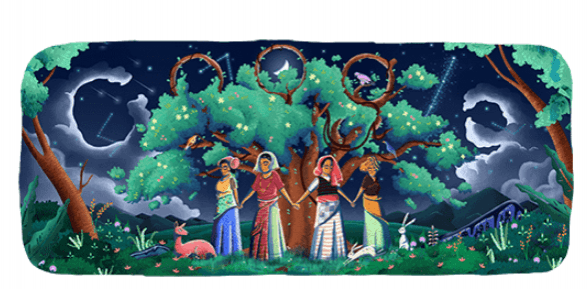 Google Monday dedicated its doodle to celebrate the 45th anniversary of the Chipko Movement. The doodle was illustrated by Svabhu Kohli and Viplov Singh to honor the movement against deforestation.
The movement derived its name from 'chipko' which means 'to embrace' or 'to stick' and functioned along the lines of the Gandhian philosophy of non-violence and peaceful resistance.
Google described the Chipko Movement as an eco-feminist movement. "The success of this nonviolent, grassroots resistance was felt around the globe, serving as the inspiration for future environmental movements. The Chipko Andolan also stands out as an eco-feminist movement."
It further stated, "Women formed the nucleus of the movement, as the group most directly affected by the lack of firewood and drinking water caused by deforestation."
The doodle portrays a colorful image of four women holding hands as they surround themselves in front of a tree symbolizing the need for a sprawling forest. The movement's salient feature was that it was mostly women who took a stand against the cutting down of trees.
The movement gained prominence as a fight against deforestation at Mandal village in Uttar Pradesh in 1973. Spearheaded by Chand Chandi Prasad Bhatt and his NGO Dasholi Gram Swarajya Sangh, villagers embraced trees in order to create ecological awareness and prevent the cutting down of trees.
Although the movement gained momentum in the early 1970s, its origin dates back to the 18th century in Rajasthan. It all started when the Maharaja of Jodhpur had ordered to cut down the khejri trees in Bishnoi villages.
However, the order did not go down well within the community following which a large number of people, led by Amrita Devi, sacrificed their lives to save trees. As a result, the king had no option but to give a royal decree to prevent the cutting down of the trees.
Many other environmentalists played a pivotal role in the Chipko Movement ­­–Sunderlal Bahugana, Dhoom Singh Negi, Gaura Devi, Bachni Devi, and Sudesha Devi, among others.