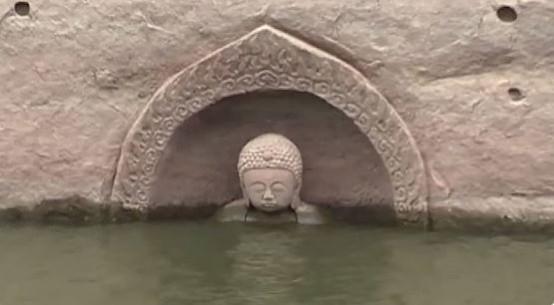 Chinese archaeologists have discovered a 600-year-old Buddha statue, that was beneath the waters of a reservoir for years in China's Jiangxi Province, on Sunday.
Read: China and Vietnam agree to negotiate territorial differences in South China Sea; will Beijing offer a similar deal to India?
The statue, which is 3.8 meters tall, was carved into the cliff. Local villagers were the first to see it and Chinese underwater archaeologists got into the act, Xinhua reported.
The place might have housed a Buddhist temple as the archaeologists have found the foundation of a hall under the water.
Xu Changqing, head of the provincial research institute of archaeology, has said that the statue was carved during the time of the Ming dynasty (1368-1644), based on the design Buddha's head.
The statue was built to pray for the safety since boats were capsizing due to the flow of the river.
The Hongmen reservoir was built in 1958, and it is located on the ruins of the ancient Xiaoshi township, which was an important trade centre and a hub for water transportation. There is also a path to the north of the statue and an inscription to the south.
The statue of Buddha has re-emerged when water level in the reservoir came down by 10mts following a renovation project of a hydropower gate.
The water had protected and preserved the statue from interference of humans or from weakening due to time and climate. China destroyed several Buddhist temples and statues between between 1966 and 1976, during the cultural revolution.
People near the statue have come back to pray to their old protector.