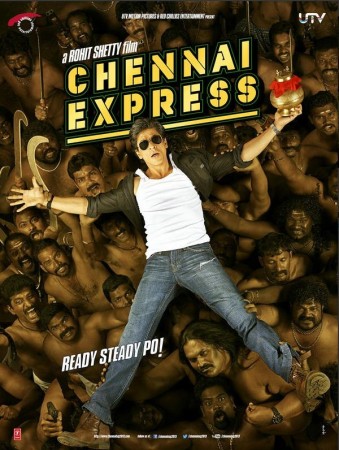 Bollywood film "Chennai Express" is continuing its success streak at the box office in its fifth week. Generally, the theatrical run of a film lasts until the fourth week to give way to new releases. But Rohit Shetty's family entertainer continues to draw audiences.
The Shah Rukh Khan-Deepika Padukone starrer has raked in ₹225.67 crore till the fifth Monday.
"#ChennaiExpress [Week 5] Fri 23 lacs, Sat 29 lacs, Sun 41 lacs, Mon 31 lacs. Grand total: ₹225.67 cr nett," Adarsh said.
The action-comedy film is also maintaining a good business in the overseas markets.
"ChennaiExpress *total till Sunday* UK £ 2,140,294 [₹21.84 cr], USA-Canada $ 5,220,926 [₹33.51 cr], Australia A$ 798,880 [₹4.78 cr]."
Despite criticism, the film has turned out to be one of the most successful films ever in Indian cinema.
Meanwhile, the political drama "Satyagraha" which entered its second week, has witnessed a slump in its business worldwide.
Prakash Jha's "Satyagraha" based on politics and corruption has done a business of around ₹61.77 crore within 11 days at the domestic box office.
"#Satyagraha [Week 2] Fri 1.28 cr, Sat 1.72 cr, Sun 2.26 cr, Mon 1.08 cr. Grand total: ₹61.77 cr nett," trade analyst Taran Adarsh tweeted.
The pace of the film's earnings at the box office has slowed down mainly because of new releases and a limited number of screens. The film, which stars Amitabh Bachchan and Ajay Devgn, raked in ₹1.08 crore on its second Monday, despite being a Ganesh Chaturthi holiday.
The box office collections of "Satyagraha" have also dropped in the overseas markets. Till the second weekend, the film raked in ₹2.13 crore from the UK circuits, ₹4.31 crore from the US-Canada circuits and ₹1 crore from Australian circuits.
"Satyagraha *total till Sunday* UK £ 209,118 [₹2.13 cr] ... USA-Canada $ 672,951 [₹4.31 cr] ... Australia A$ 167,707 [₹1 cr]," Adarsh tweeted.