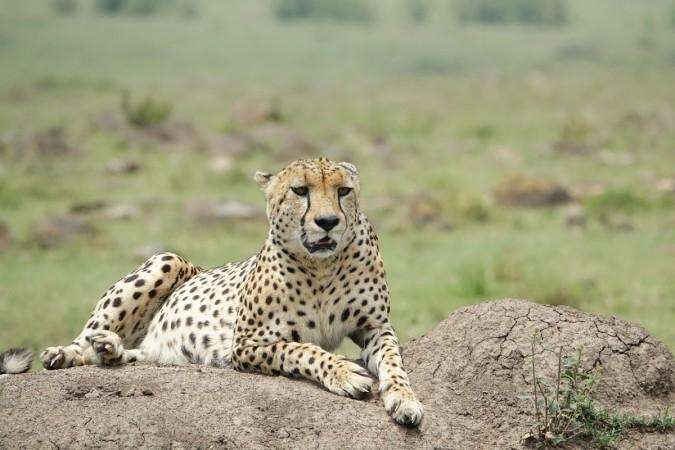 When the cheetah, Solo, was born without any sibling, zookeepers Aline Ijsselmuiden and Kyle Macdonald had a hard time raising him. They stayed awake at nights to feed the cub as it was difficult for his mother to produce milk for one offspring.
However, they soon realized that it is not possible for humans to give the affection the growing cub needed to properly develop his social skills. So, there came a border collie-cross-Belgian Malinois puppy named Zama to be Solo's best friend.
"Having a best friend slash puppy will help his development, so it'll allow him to play and run around as they would normal as he can't do that with us," Ijsselmuiden said, as reported by abc.net.au.
National Zoo & Aquarium, Australia had selected the unique breed of dog keeping in mind that it has to match up to the energy of the world's fastest animal.
Solo, who is now four-month-old, has been, has been unveiled at the Canberra zoo Wednesday. Solo will also make his public debut as one of the zoo's ambassador animals in just two days, reported canberratimes.com.au.
He now spends his time playing with Zama. "Solo has learned from Zama and loves her — if she's not around he will call for her," said Ijsselmuiden, the report added.
The zoo has huge plans for Solo. The cheetah cub, when he grows up, will help protect his own species which is now critically endangered. He will take part in the region's breeding program once he is an adult.
The pair will also be a part of the zoo's Meet-a-Cheetah program, from which fund will go toward conservation efforts. According to news.com.au,
As part of the programme, visitors can book a hands-on encounter with them. Maximum two people will be allowed to spend some time (around 15 minutes) with Solo and Zama, news.com.au reported.
But what will happen if their friendship falls apart? Ijsselmuiden said, according to ABC News, if the animals grow out of their friendship, Zarma will go to a regular human home as a pet dog.