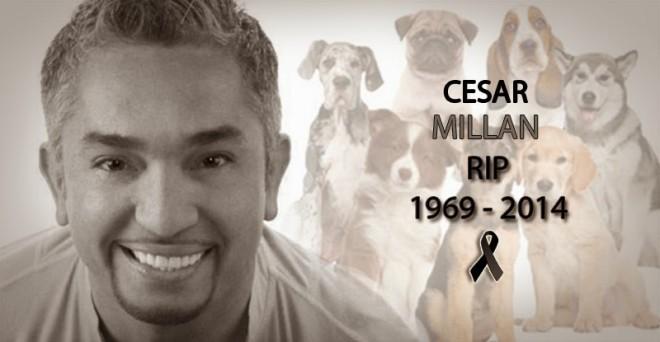 A fake story claiming that "Dog Whisperer" Cesar Millan passed away on Wednesday morning following a heart attack took the Internet by storm on Wednesday, much to the disappointment of dog lovers who believed the "news" item.
But Millan's camp was quick to quash death reports with a statement on his official Facebook account from his beloved dog's perspective.
The message from Junior Millan read: "Reports of my Pack Leader's untimely demise are greatly exaggerated. I can happily report he is safe, happy and healthy. I can also tell you he kept me up all night snoring, my breakfast was a little late but I did get a great morning walk. As Cesar keeps telling me: Exercise. Discipline. Affection. - the key to a long, balanced, and healthy life!"
Reports of Millan's death started doing the rounds on Wednesday when a UNAM Noticias report claimed that the dog trainer succumbed to death in the early hours of 3 December in Santa Clarita hospital in California.
In recent times there has been an increase in the number of death hoaxes, and like Millain many celebrities have taken a humourous approach when dealing with the news of their premature demise.
Here are top 5 funny reactions to death rumours.
Usher: When singer Usher was killed off by the Internet in 2012, he reacted by tweeting a shirtless photo of himself with the caption: "I must've died and went to heaven... Alive and cold kickin ass!!"
Axl Rose: The Guns N' Roses frontman took to Twitter following his alleged demise to ask this hilarious question: "If I'm dead do I still have to pay taxes?"
Morgan Freeman: Since 2010, Morgan Freeman has been a constant target for death rumours. Here's how he responded to the news of his death in 2012.
"Like Mark Twain, I keep reading that I have died. I hope those stories are not true... But if they are, I'm happy to report that my afterlife seems identical to my life when I was alive. I did go to Las Vegas to begin work on the film 'Last Vegas.' That is anything but a death sentence. -- Morgan," the actor wrote on Facebook.
Zach Braff -- Scrubs star Zach Braff refuted death rumours in 2009 with a video on YouTube.
"I'm alive. I'm here at Scrubs shooting the new Scrubs title sequence which is a little bit like dying, so I guess that was semi-accurate. Also, I would never off myself with pills. If I had to do it, I would do it the way that everyone else would do it—by hitting myself with pots and pans."
Dwayne Johnson -- The actor was not pleased when rumours started spreading in 2011 stating that he had died.
"I would love to meet the person who is starting rumours of my death — to show them how a dead foot feels up their ass."