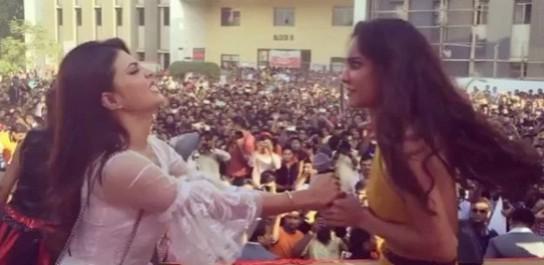 Bollywood has seen many cat fights. But Jacqueline Fernandez and Lisa Haydon had once taken it to a different level.
A video shows Jacqueline and Lisa fighting on stage in order to snatch a microphone from each other's hands. Lisa is even seen pulling the Kick actress' hair, following which the latter gave up.
Before you people jump the gun, let us clarify that this is an old video, and it was not a real fight, but just a playful gesture. Jacqueline herself shared it on Instagram while wishing Lisa on her birthday.
The two divas are best of friends, and the duo was seen engaging in such playful fights during the promotions of Housefull 3. Jacqueline shared the video on Instagram with a caption saying, "Happy birthday @lisahaydon u a mommy now". Check the clip here:
This video was earlier shared by Akshay Kumar during the release of Housefull 3. Two other such videos were also released in which the two actresses were seen fighting over food and over entering a flight first. Of course, those were also in good spirit.
Rumour has it, Jacqueline and Taapsee Pannu were having a cold war. It was reported that the two actresses cannot stand each other on the sets of Judwaa 2. Nevertheless, Taapsee had rubbished the gossips completely.
"We all had a ball while shooting in London. Judwaa is as much fun as I expected it to be. I am enjoying every bit of my stint as a typical Bollywood heroine. As for these rumours of stress on location, they are as lame as other baseless rumours that fly around," Taapsee had told a daily.