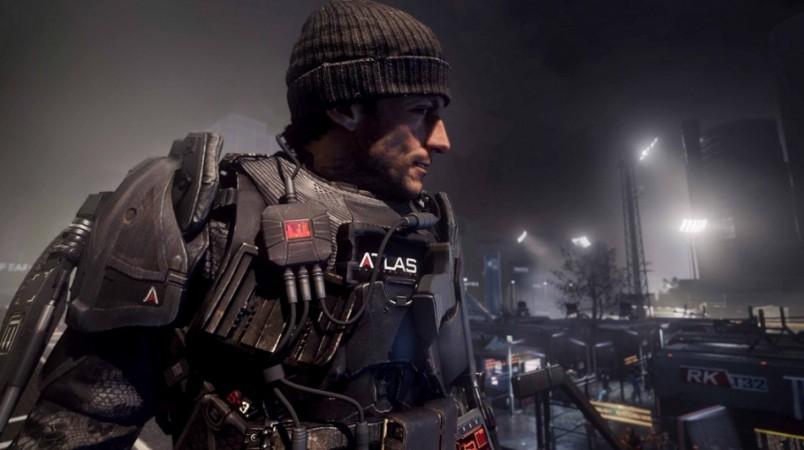 Sledgehammer has showcased its newest weapon, Call of Duty Advanced Warfare during the recently concluded Gamescom 2014. It also allowed participants to play the game and the studio revealed more about it for its players.
One of the speculations that is doing the rounds is the return of the Zombies in Call of Duty Advanced Warfare. GamingBolt reported that it had made an important observation that hints its existence. In one of the custom controllers, there was a 'tally' near the analog stick similar to that was built in earlier Call of Duty games like World at War, Black Ops and Black Ops 2.
Six Features in Call of Duty Advanced Warfare Multiplayer:
Boosting - Due to the presence of exoskeleton, players will be able to boost jumping dodge and slide.
Directed Energy Weapon (DEW) - The gun is able to generate and store heat.
Scorestreaks - Previously in Black Ops 2, these make a return to this new game. They are vital in the game and when activated the other player might be able to come and play (co-op). They can also be customised.
Supply Drops - These are packs that players are rewarded with weapon loot, character customization items and reinforcements.
Abilities in the Exo - The game provides various abilities to the usage of exoskeleton like energy shields, hovering, cloaking, health boost, trophy systems (destroys incoming grenades) and speed boost.
12 Game Modes - Advanced Warfare has 12 modes with two of them new - Momentum and Uplink
(Source: GameInformer)
Riot Multiplayer Map and Hardpoint Gameplay Trailer
A trailer released on 15 August has revealed new Call of Duty: Advanced Warfare's multiplayer maps - Riot. The trailer also brings back Hardpoint gameplay, where players will have to fight for control during a rotating hot spots.
(YouTube Courtesy: PlayStationLifeStyle)
Exclusive Xbox One Bundle
The Call of Duty Advanced Warfare will be receiving a special Limited Edition Xbox One costing $499.99. This Limited Edition X box One bundle will come with the following features:
1 TB hard drive, custom console, controller and Limited Edition exoskeleton. It will also get Limited Edition exoskeleton and a Call of Duty: Advanced Warfare Day Zero Edition.
This model does not come with a Kinect.
Users will be able to easily change from TV to apps.
Apart from this offer, there is another offer for $64.99, which will feature a custom designed Xbox One Limited Edition Call of Duty: Advanced Warfare Wireless Controller. The inspiration for this design was Sentinel Task Force.
Release Date
The game will be released on 4 November 2014 for PC, PlayStation 3, PlayStation 4, Xbox 360 and Xbox One.