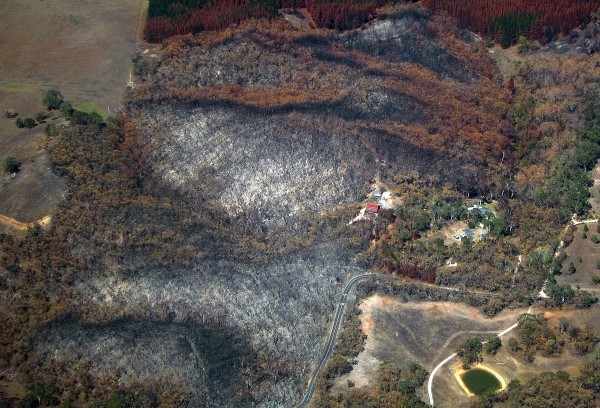 The bushfires in Australian island state Tasmania have razed parts of World Heritage-listed forests in the area, reports said.
Forests in Tasmania that pre-date dinosaurs and hold evidence of links to the ancient continent of Gondwana, which comprised Australia, Africa and South America, have been razed by unmanageable bushfires that have been blazing for almost three weeks now.
"The fires in western Tasmania are occurring in basically an ecosystem which is a remnant from the geological past, so they are of immense significance scientifically," David Bowman, professor of environmental change biology at the University of Tasmania, told AFP.
"These systems were once more widespread and indeed grew on Antarctica billions of years ago, so they are living fossils... they go back to well before the age of the dinosaurs, they are a tangible connection to Gondwana," he added.
The Tasmanian Wilderness was added to the UNESCO's World Heritage list in 1982.
Tasmania, which is in Southern Australia and has cooler temperatures, is battling bushfires and floods at the same time. Daily life has been affected on the island, with authorities closing highways due to flooding and landslides.
The fires began almost 18 days ago when lightning storms followed by rain hit the region.
Almost 95,000 hectares of land have been razed by the fires, authorities told AFP on Friday.
However, real estate and human life remains unharmed. Firefighting teams from New Zealand and mainland Australia have flown in to help douse the 70 odd blazes in the area.
Almost a dozen fires broke out in the island after fresh lightning struck on Friday.
"I have just been made aware that the fire at Debry Plains has now linked up on the western side with the Lake McKenzie fire, so that's now just formed a bigger fire and it still continues to travel in a westerly direction into the Cradle Mountain World Heritage Area," ABC quoted state fire controller Geoff Harper as saying on Friday.
Tasmania, in 2013, faced one of the largest bushfires when the Giblin River fire razed 45,000 hectares of land after a lightning storm, writes Bowman in The Conversation.