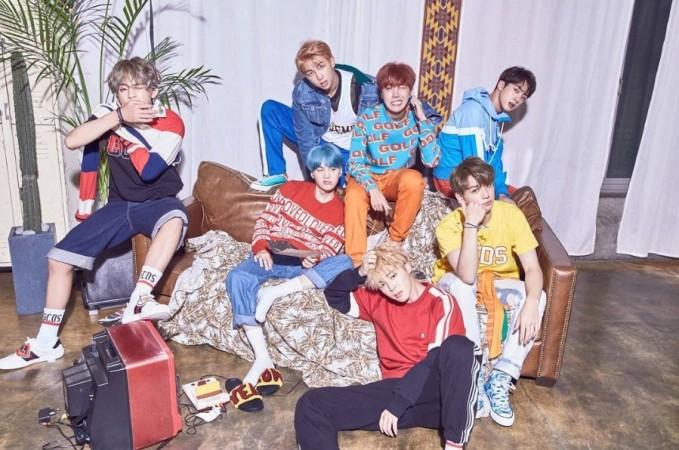 BTS, the famous K-pop boy band, has become the first Korean band to be officially certified as a million-seller through Gaon Music Chart in South Korea.
On Thursday, the Korea Music Content Association (KCIA) issued a certification saying that the latest album of BTS titled "Love Yourself: Tear", which was released on May 18, has sold over a million copies. Previously, the album had set a record by achieving the milestone of highest monthly sales for selling 1,664,041 copies in just 14 days.
ALSO READ: Is Meghan Markle trying to be the best daughter-in-law of Queen Elizabeth II by doing this?
The authority has adopted a new certification system from this year for song downloads, online streaming and album sales. According to the new system, albums will be certified as platinum by the Gaon Chart if it reaches 250,000 sales on or after Jan 1, 2018. If any album sells a million copies, then it will receive a "million certification".
The Recording Industry Association of America (RIAA) and Recording Industry Association of Japan (RIAJ) also follow a similar certification system.
Meanwhile, there is another piece of news for BTS as the Incheon International Airport in South Korea announced on July 11 that they will employ BTS-designed BT21 characters at the airport. This initiative to feature the collection, which was jointly produced by BTS and Line, has been taken to promote the airport and provide "entertaining and interactive facilities and services" to the customers.
ALSO READ: 'Avengers: Infinity War' digital, Blu-ray release dates and bonus features revealed
In July, the airport will air eight promotional films that will feature BT21. The list of films will be disclosed on the social media platform of the airport. In addition, the BT21 characters will also be featured on the luggage carts.
"85 per cent of travellers to Korea are from Asia, 60 per cent of whom are millennials. This project reflects the need for a marketing strategy targeting (the younger age group)," Chung Il-young, the president and CEO of Incheon International Airport told Asia One.
According to the Incheon International Airport authority, this latest joint project with BTS will surely act as "a historic collaboration with the very best names in the world."