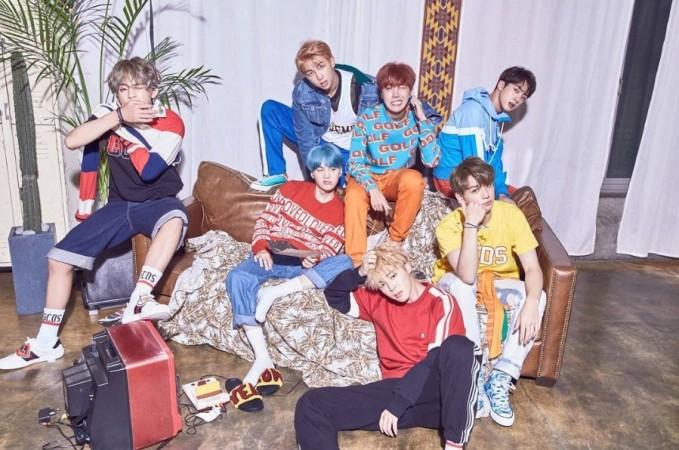 Korean boy band BTS is all set to rock their North America 'Love Yourself' tour later this year. Meanwhile, they K-pop group has also announced the final instalment of the 'Love Yourself' album, which was released earlier this year.
The album has been repackaged with 7 new songs along with the existing tracks. According to Big Hit Entertainment, the album will be released on Aug 24.
ALSO READ: Coca-Cola to feature BTS on its summer special-edition cans end of July
Recently, BTS was certified as a million-seller through Gaon Music Chart in South Korea. "Love Yourself: Tear", the latest album of BTS was released on May 18 and it has successfully sold over a million copies.
Earlier, the album had set a record by achieving the milestone of highest monthly sales for selling 1,664,041 copies in just 14 days. The boy band was also became the first Korean group to top the Billboard 200 albums chart.
ALSO READ: BTS gets certified as million seller in Korea; Incheon Airport makes historical collaboration with the K-pop band
Fans, who wish to witness the band performing live on their North America tour, can book their tickets here. The ticket prices range from $368 to $1543. The dates of the concert are mentioned below:
09-05 Los Angeles, CA - Staples Center
09-06 Los Angeles, CA - Staples Center
09-08 Los Angeles, CA - Staples Center
09-09 Los Angeles, CA - Staples Center
09-12 Oakland, CA - Oracle Arena
09-15 Fort Worth, TX - Fort Worth Convention Center
09-16 Fort Worth, TX - Fort Worth Convention Center
09-20 Hamilton, Ontario - FirstOntario Centre
09-22 Hamilton, Ontario - FirstOntario Centre
09-23 Hamilton, Ontario - FirstOntario Centre
09-28 Newark, NJ - Prudential Center
09-29 Newark, NJ - Prudential Center
10-02 Chicago, IL - United Center
10-03 Chicago, IL - United Center