Bride Of The Water God, the tvN romantic fantasy drama that is also known as The Bride of Habaek, returns with episode 5 this Monday, July 17, at 10.50 pm KST. This chapter could feature the love triangle between Ha Baek, Yoon So Ah and Jung Soo Jung a.k.a Moo Ra.
The goddess is not really happy to see the neuropsychiatrist with the water god and she will try her best to get rid of the female lead. When somebody threw Shin Se Kyung's character from a building, the viewers thought that it was Moo Ra's lackey. But it was somebody related to the female lead.
In the upcoming episode, somebody will try to kill Yoon So Ah again and the goddess seems to have a major role to play in the scheming. The promo shows Moo Ra using her powers against Yoon So Ah, resulting in a car accident.
Also read Will MBC renew Ruler: Master Of The Mask?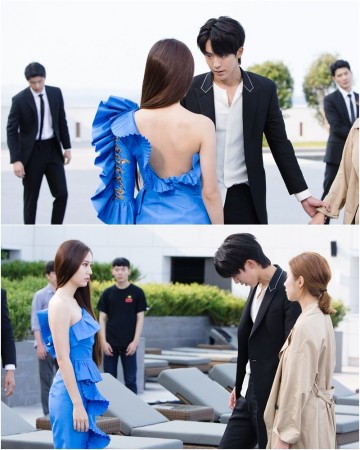 The footage also shows her cuddling up with the water god and seeking the help of wind god Bi Ryum. Once again, the timely interference of Ha Baek might save the female lead.
However, the resort CEO Hoo Ye may come up with a plan to split the onscreen couple. The male antagonist already has a secret crush on the neuropsychiatrist and he will never let things go out of his hand.
Click here to watch Bride Of The Water God episode 5 live online. Korean drama lovers can also catch up with the latest episodes of the show on various video streaming sites, such as Viki and DramaFever.
Watch the trailer below: