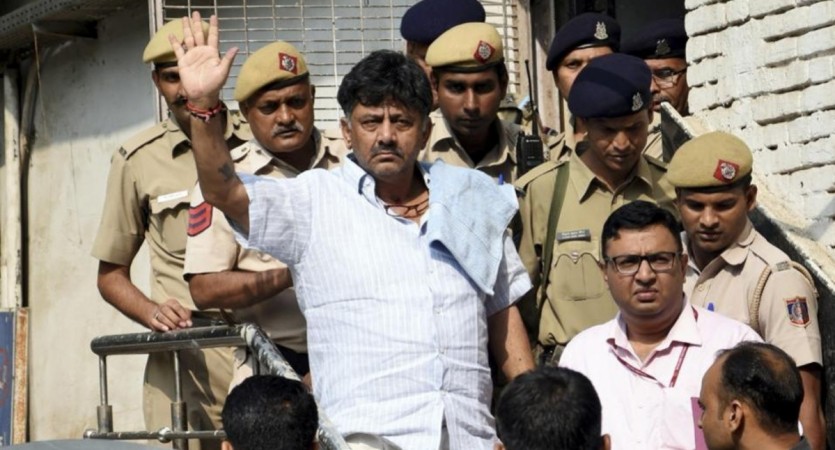 The Supreme Court on Friday, November 15, dismissed the plea filed by Enforcement Directorate (ED), challenging the Delhi High Court's order granting bail to Karnataka Congress leader DK Shivakumar in a money laundering case.
The apex court refuted earlier reports that claimed a notice was issued to Shivakumar after hearing ED's appeal.
The Congress troubleshooter was granted conditional bail on a personal bond of Rs 25 lakh by Delhi HC on October 23. DKS was also asked to surrender his passport to the court.
The ED had arrested Shivakumar under Prevention of Money Laundering Act (PMLA) on September 3, based on a complaint filed by the Income Tax (IT) department.

The IT department had seized unaccounted cash amounting to Rs 8.83 crore from Shivakumar's flat in Delhi on 2 August, 2017. After the seizure, it had lodged a case against DKS and four of his associates under Sections 277 and 278 of the Income Tax Act, 1961, and Sections 120(B) (criminal conspiracy), 193 (Punishment for false evidence) and 199 (False statements made in declaration which is by law receivable as evidence) of the Indian Penal Code (IPC).
A few minutes after his arrest, DKS had taken to Twitter to congratulate the Bharatiya Janata Party (BJP) for his arrest.
"I congratulate my BJP friends for finally being successful in their mission of arresting me. The IT and ED cases against me are politically motivated and I am a victim of BJP's politics of vengeance and vendetta," wrote DK Shivakumar.
The court had earlier rejected his bail plea and also questioned daughter Aisshwarya and brother Bengaluru Rural MP DK Suresh for the drastic increase in their wealth.
In his 2019 election affidavit, Suresh had declared assets worth Rs 338 crore while his 2014 affidavit was valued at Rs 85 crore. His wealth has grown increased nearly four-fold within a span of just five years. Suresh had alleged that his brother was being grilled by the central agencies because he refused to join the saffron party.
Shivakumar's mother and wife were also summoned by the ED earlier in October after evidence over some financial transactions in connection with the case were found.
State-wide protests against Shivakumar's arrest
Following Shivakumar's arrest, calls for state-wide bandh and protests in Karnataka were made by the Congress the dominant Vokkaliga community.
"In order to condemn the arrest of DK Shivakumar and the misuse of the Enforcement Directorate by the government, the Karnataka Congress has called for a state-wide bandh on September 4," Karnataka Pradesh Congress Committee president General secretary Sathyan Puthoor had said.