A massive explosion in Beirut shook Lebanon's capital on Tuesday, causing damage to property and leaving several injured. While an official statement in the matter is awaited, several videos of the explosion have been shared on Twitter. The massive blast likely occurred in a fireworks warehouse or possibly a vessel carrying fireworks shipment.
The effect from the blast was felt several miles away from the Beirut port. Videos shared on Twitter also show windows of a nearby high-rise blown out. A cloud of thick smoke billowed from the city center and many witnessed the blast from miles away. Nearby buildings reportedly suffered damage as windows shattered and false ceilings dropped.
According to Reuters, at least 10 bodies have been pulled from the wreckage. Lebanon health minister, Hamad Hasan, has revealed several injuries and extensive damage. A local correspondent of LBCI has reported that the Lebanese PM's wife, daughter have also been injured in the explosion.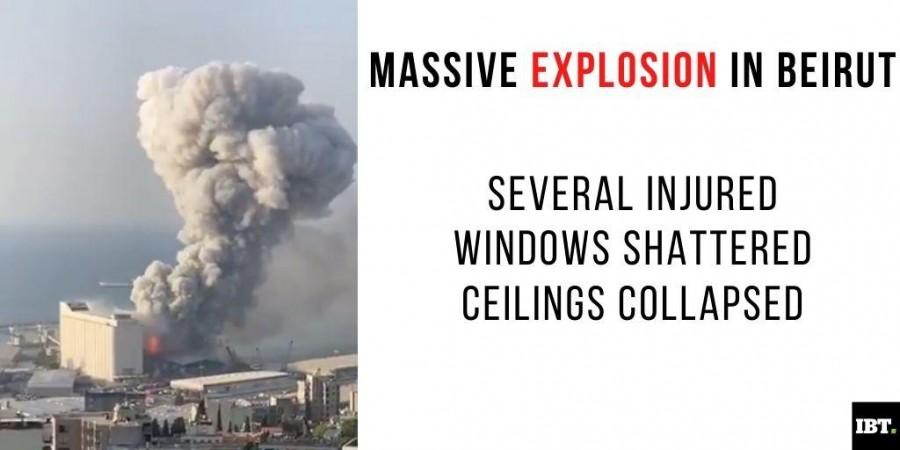 The explosion comes at a sensitive time in Lebanon ahead of the UN tribunal verdict on the assassination of former Lebanese Prime Minister Rafik Hariri, who was killed in a car bomb in 2005. In fact, the second explosion happened near the residence of former Prime Minister Saad Hariri, who was not harmed.
Foul play?
Rita Katz, Director of SITE Intelligence Group, expressed shock and suspected foul play that led to the horrific blast. Katz cited a Lebanese official stating the explosion was not due to IED but due to some confiscated high-intensity explosive material, which was stored in a facility.
"Director General of Lebanese security states explosion was not result of IED, but rather a high-intensity explosive material "confiscated years ago" and held in the now-destroyed facility. Raises questions as to what the facility was, and does not at all exclude foul play," Katz writes.
Another observation raises questions over the decision to store fireworks or any other explosive material at a dock labeled for grain storage. The port dedicated to store hazardous goods was not used for unknown reasons, The Intel Crab pointed out.
International response
The DoD said it has no knowledge of what caused the explosion. A Trump administration official said the situation is being closely monitored.
"DoD is aware of the explosion in Beirut and greatly concerned for the apparent loss of life from such destruction. We are actively monitoring developments but have nothing to offer regarding the cause of the explosion nor its aftermath," a Pentagon spokesperson was quoted as saying by CNBC.
The Indian embassy in Beirut has issued emergency contact numbers for those affected by the explosion.
Witnesses share horrific footage
Several photos and videos have flooded social media showing the horrific blast and the aftermath of the explosion.