Islamic State terrorists have reportedly carried out an arson attack in the island nation of Maldives. The National Emergency Operation Centre (NEOC), Commissioner of Police (CP) Mohamed Hameed confirmed that the harbor fire incident that took place in the early hours of Wednesday morning was "clearly a deliberate act."
In the incident, four speedboats, a sea ambulance and two dinghy's docked adjacent to each other were burnt. The local authorities had suspected it to be "a retaliatory attack for recent investigations into drug trafficking and religious extremism," local English daily had reported. While the commissioner had noted that recent crimes against authorities were carried out by religious extremists, he did not suspect a direct IS link.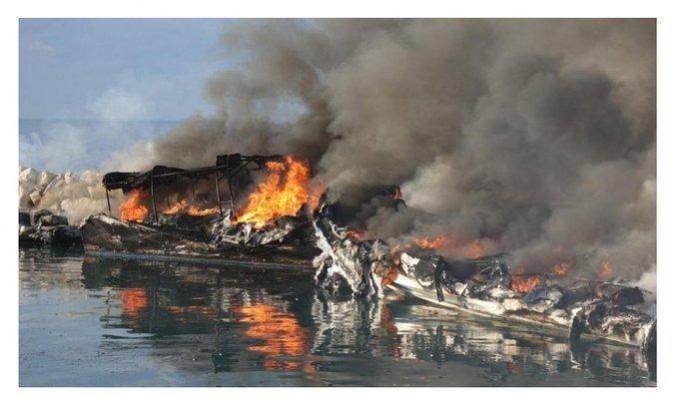 The IS link
The director of SITE Intelligence Group, Rita Katz, revealed that the recent harbor attacks in the central Maldives were an act of the IS terror group. The Islamic State claimed responsibility for the arson attack through its Al Naba weekly newsletter.
As per Katz's tweets, ISIS stated that the boats belonged to the "Apostate Maldivian Government and its loyalists" and were destroyed using "incendiary bombs."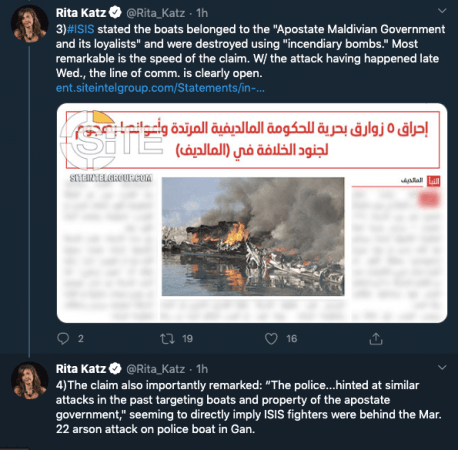 A gang war or retaliation against police?
The Maldives authorities have not deviated from their original statement, which directed the investigation towards a gang war. A Maldivian English daily suspected just as much. International Business Times, India could not verify the IS link to the arson attack in the Maldives at the time of this writing.
One of the speed boats burnt in the attack belonged to a private company Alifu Dhaalu Atoll council while the other one belonged to the police. A similar incident took place on March 22 when a police launch docked at the harbor of Gan in Laamu Atoll was set on fire. The investigation revealed the attack was a deliberate attempt to show retaliation against the police operation on a drug trafficking ring.
An official statement from the Maldives Police Serivice will issue clarity into the matter. Stay tuned for updates.