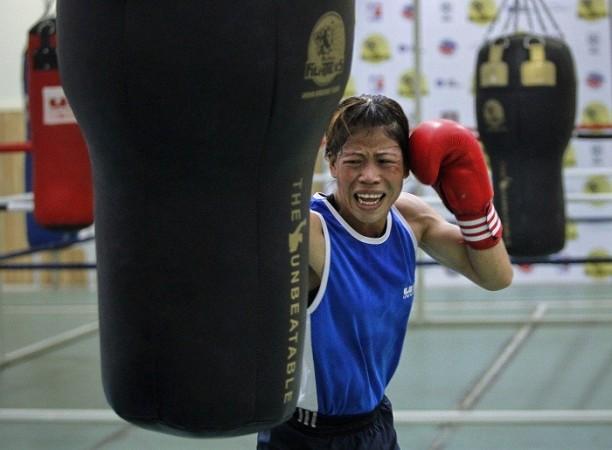 After a long break since winning the bronze medal in the London Olympic Games, Indian pugilist MC Mary Kom is set to hit the ring, as she gears up for the 2014 Glasgow Commonwealth Games.
All eyes will be on Mary Kom in two-day core group selection trials, as she bids to impress the selectors. It is not going to be a pushover for the five-time world champion, as the tournament features top Indian boxers, such as Sarita Devi and Pinky Jhangra.
Mary Kom is staging a comeback after giving birth to her third child. Her return to the ring was delayed because of surgeries and she started training just one month back, but the 31-year-old is hopeful of making a mark in the trials.
"I have been out of the ring for quite sometime and it's difficult to stage a comeback. But I have worked hard in the last one month. Hopefully things will go my way," Mary was quoted by TOI.
"I had to undergo a few surgeries as well, so it was not easy to return. I started training last month, after almost two years. It was difficult initially but things got better with every passing day.
The mother of three from Manipur will be competing in the 51kg category, but doubts about her fitness have been raised ahead of the trials.
"I still need to regain my fitness level and I'm working on that. At the moment I am nearly 80 per cent fit. But I'm happy to have lost my weight. I had gained a few kilos after surgeries but things are back to normal now," the boxer said.
Mary Kom admitted thoughts of quitting boxing soon had ran through her mind. "I do think of quitting and one day I have to retire. But I have still not fulfilled some of my aims," Mary Kom said.
The Manipur boxer said she wants to win Olympic gold medal in Rio in 2016, but for now she is setting short term targets. "I always wanted gold in the Olympics and I want to achieve that. But I do think that it would boil down to my performance. If it slips than I will not continue. I am setting short term goals. Only if I feel I am upto it, I would go," said the 31-year-old.