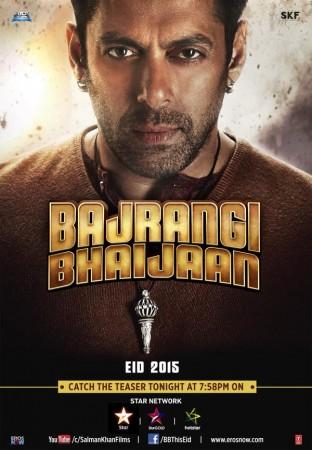 Salman Khan's "Bajrangi Bhaijaan" finished its five-week run, while Ajay Devgn's "Drishyam" completed three weeks at the domestic box office.
Bajrangi Bhaijaan
Salman and Kareena Kapoor Khan starrer "Bajrangi Bhaijaan" reached a total of Rs 318.06 crore in its fifth week at the box office.
"#BajrangiBhaijaan [Week 5] Fri to Sun 2.63 cr, Mon 38 lacs, Tue 36 lacs, Wed 33 lacs, Thu 32 lacs. Total: ₹ 318.06 cr. ATBB," trade analyst Taran Adarsh tweeted.
The film had a successful five-week run and it continues to entertain movie buffs in its sixth week.
A movie generally stays in theaters for four weeks, but in case of popular movies starring A-list celebrities films run for a longer period. And same is the case with Salman's "Bajrangi Bhaijaan".
The Salman starrer finished its five-week run at the box office and it has still managed to hold screens in several theaters across India. Interestingly, even after five weeks "Bajrangi Bhaijaan" is going housefull in some theaters across India, while in several theaters the occupancy is filling up fast.
However, the box office collection of "Bajrangi Bhaijaan" will be considerably low in its sixth-week, as the screen count has declined drastically.
Drishyam
Ajay and Tabu starrer "Drishyam" had a decent third week box office collection. The thriller drama minted Rs 71.72 crore in three weeks.
"#Drishyam [Week 3] Fri to Sun 4.50 cr, Mon to Thu 3.05 cr. Total: ₹ 71.72 cr. India biz," box office analyst Adarsh tweeted.
"Drishyam" will continue its box office run in the fourth week, but the collections will be on the lower side. Meanwhile, Akshay Kumar and Sidharth Malhotra starrer "Brothers" has shattered the three-week box office collection record of "Drishyam" with its first-week income.
"Brothers", which was released on 14 August, has taken the lead at the box office over "Drishyam" in India and will continue to dominate the ticket windows.