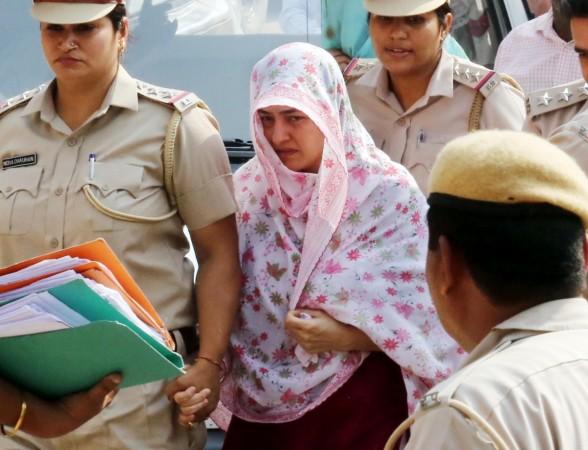 Priyanka Taneja, better known as Honeypreet Insan, on Tuesday, December 5, claimed that she is broke and requested the jail authorities of Haryana' Ambala Central Prison to let her access her three frozen bank accounts. Honeypreet was arrested on October 23 by the Haryana police from Sirsa in Panchkula over criminal conspiracy charges, after she went into hiding for 40 days.
Honeypreet, known as the adopted daughter of controversial godman Ram Rahim Sigh, has written a letter to the Ambala jail authorities and urged them to reactivate her bank accounts so that she can pay the fees of her lawyer.
Honeypreet has been accused of being involved in all the illegal activities of Dera chief Ram Rahim who has been sentenced to 20 years in jail and a fine of over RS 30 lakh for raping two of his disciples in 2002. Numerous allegations against the Dera chief conitnue to surface which include molestation, disproportionate assets and illegal possession of weapons.
Earlier in October, Ram Rahim's adopted daughter underwent thorough interrogation where she revealed about plotting mass violence in Punjab, Haryana and Delhi after the Dera chief was found guilty on August 25. The violence allegedly planned by Honeypreet along with her aides claimed over 35 lives in these states.
The 'papa's angel gad allegedly plotted the violence ahead of Ram Rahim's arrest. A meeting was reportedly convened on August 17 where Dera spokesperson Aditya Insan and many trusted aides were summoned by Honeypreet in order to chalk out a plan to save Rahim from arrest in case of an infavourable verdict. They also planned the violence and damage to the public and private property to distract the police officials and security forces.
A chargesheet filed by the Special Investigating Team (SIT) of Haryana probing Honeypreet's involvement in the August violence read that the 42-year-old and other Dera members had planned to smoke entire Panchkula if the court convicted Ram Rahim.
However Honeypreet's plans did not work as the Haryana police took the Dera chief to Rohtak Jail in a chopper on August 25 just after the court pronounced him guilty.According to a report by Times Now, an excerpt from the charge sheet read, "Ram Rahim was planning to flee to Nepal and had kept his passport and other supporting documents ready during the time of the hearing."
The investigation officials have also said that Honeypreet had bribed the Dera members and hired many people spending over 1.25crore to carry riots and mass violence around the court premises. The arrested suspects post the violence had also confessed that Honeypreet was the mastermind for the riots.
Meanwhile, the hearing on disproportionate assets owned by the Dera in Sirsa and Honeypreet's involvement in it is set to be begin from December 7.