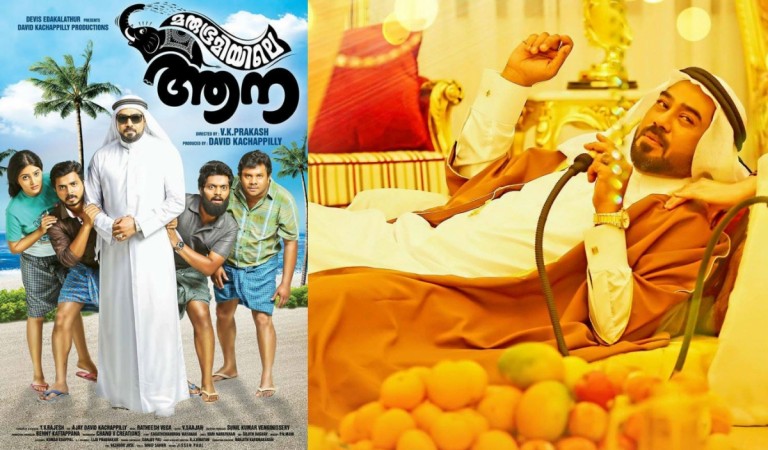 The comedy entertainer, "Marubhoomiyile Aana," starring Biju Menon hit the screens in Kerala on Friday, Aug. 12. The VK Prakash-directed film narrates the incidents that happen after an Arab man (played by Biju) comes to God's Own Country.
Biju will be seen as His Highness Sheikh Sultan Hamid Sudbin Qhaleefa Bin Jassim Al Thani Muhammed. The movie also stars Krishna Shankar, Samskruthy Shenoy, Sanusha, Balu Varghese and Saju Navodaya in key roles. VK Prakash has stated that "Marubhoomiyile Aana" is a feel-good entertainer that is interspersed with humour elements throughout.
The songs of David Kachappilly's production venture, composed by Ratheesh Vega, and the theatrical trailer, have already impressed the audience. The movie has locked horns with two Jayasurya movies — "Inspector Dawood Ibrahim" and "Pretham" — which have also been released throughout the country on Friday.
Check out the audience response on Biju Menon's "Marubhoomiyile Aana" here:
Jayanth Anandanarayanan
watched marubhoomiyile aana.out and out comedy entertainment with a little suspense .biju Menon polichu with all the other characters .a good one to watch to relax and enjoy
Dhishan Ammanath
'Marubhoomiyile aana' Once again.....Oru thakarppan film from Biju Menon !!!!! VKP hats off 2 you n ur entire crew...!!! Oru complete entertaining movie... Congrats...!!!!
Aadhi Roy
Ohhh VK PRAKESH sir won't fail in entertaining the audience :-) he is best in it :-) The movie is a fun yum entertainet :-) woo...lots to laugh with:-) BIJUMENO- e Pulli manushyane chiripichu kollum ;-) the movie is a paka VKP fun entertainer :-) (y)
Aake kudi paranjal...both of the movies are good...GOooooooooD ;-)